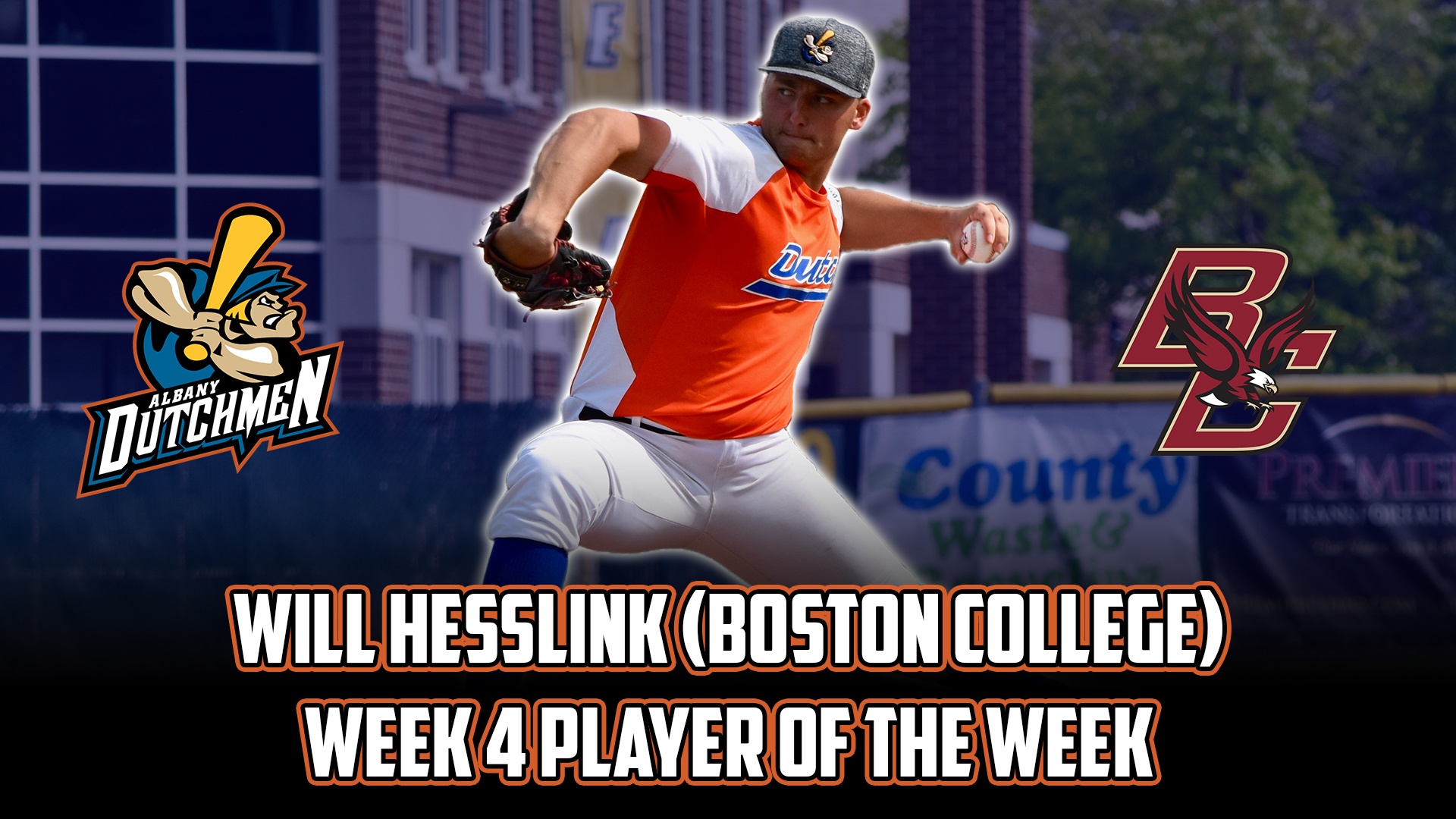 ALBANY, N.Y. – Will Hesslink (Boston College) has been named the Dutchmen Player of the Week for the period between June 24th and June 30th.
Hesslink only pitched in one game this week, but his performance was impactful as he locked down a 19-7 win for the Dutchmen at Glens Falls with three strong innings out of the bullpen, earning the win in the process. The lefty only allowed two hits and struck out five without allowing a run.
Hesslink has pitched in five games this season and has gradually improved throughout the first month for the Dutchmen. In his first two games, Hesslink pitched 2.2 innings and allowed four runs on four hits and four walks. In his last three games, Hesslink has allowed only one run in 9.0 innings and has not walked a batter while striking out eight.
"I have been working with the coaches on some of my mechanics which have helped me be more consistently in the zone with all of my pitches," said Hesslink. "My walks have been down and thankfully I've had some great defense behind me to help everything's come together."
The bullpen of the Dutchmen continues to be a strength for the Dutchmen. Albany starters have only gone six innings once this season and the bullpen has effective in keeping the Dutchmen in games.
"A combination of our top caliber arms and our ability to attack early in counts has been successful against some good hitters," said Hesslink. "Just about everyone on our staff is great at limiting base runners, and it's very hard to score if nobody is on base."
Through the first half of the season, Albany has recorded a 13-10 record and sits in fourth place in the PGCBL East Division. The Dutchmen's upcoming week includes two games against the Saugerties Stallions, who hold a one game lead over Albany for second place in the PGCBL East Division.
"I think we just need to build off this weekend," said Hesslink. "After our win yesterday the boys feel some momentum swinging our way and it's going to be exciting."
Albany returns to PGCBL action on Tuesday, July 2nd, with an away game at the Adirondack Trail Blazers. First pitch is set for 6:35 p.m. The Dutchmen return home to play the Oneonta Outlaws on Saturday, July 6th at Connors Park at Siena College. First pitch is set for 5:05 p.m. For tickets and more information, visit dutchmenbaseball.com/tickets.