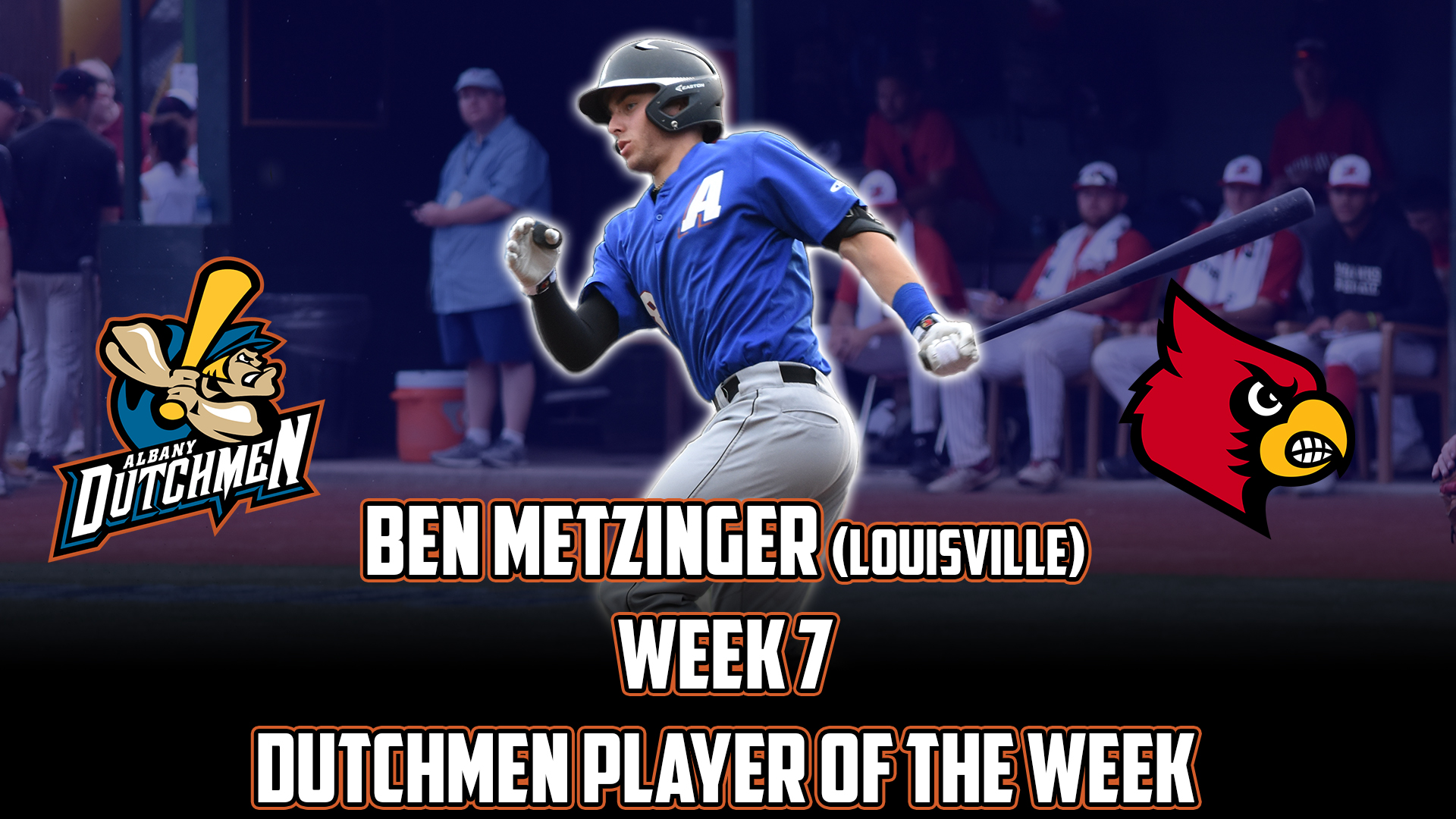 ALBANY, N.Y. – Ben Metzinger (Louisville) has been named Dutchmen Player of the Week for the period between July 15th and July 21st.
Metzinger recorded a hit in all four official games this past week for the Dutchmen. The catcher also launched his first two home runs of the season, ending the week with a .357 avg and two RBIs. Metzinger now has six RBIs on the season and seven of his hits have gone for extra bases.
After a 3-20 stretch, Metzinger went 5-14 last week at the plate and started in every official Dutchmen game. He has raised his batting average by just under 30 points since July 9th.
"My biggest problem was getting in my own way," said Metzinger. "Confidence is the most important thing for me. The problem was making changes and not trusting my ability."
Metzinger left the team for 10 days as he rejoined his Louisville teammates in Omaha for the College World Series. Although he didn't feature in any games, the freshman gained valuable experience in high-pressure situations.
"Omaha was an amazing experience," said Metzinger. "I'm extremely blessed that I got to be a part of it. It helped me bring the competitive spirit back to Albany."
Metzinger now holds a .284 batting average with two home runs and six RBIs. He continues to be a positive influence offensively with a .467 on-base percentage, which is third on the team.
Albany looks to secure a playoff spot and a home game in the first round of the PGCBL playoffs with multiple doubleheaders scheduled for the last full week of the season. The Dutchmen are two games behind Mohawk Valley for the second spot in the PGCBL East Division.
"We just have to play hard and play until the last out," said Metzinger. "We haven't played our best baseball lately, but we have been grinding out games."
Albany's next game is at Shuttleworth Park on Tuesday, July 23rd against the Amsterdam Mohawks. First pitch is scheduled for 6:45 p.m. The next Dutchmen home game is a doubleheader against the Oneonta Outlaws on Saturday, July 27th with first pitch for game one set at 3:00 p.m. For tickets and more information, visit dutchmenbaseball.com.