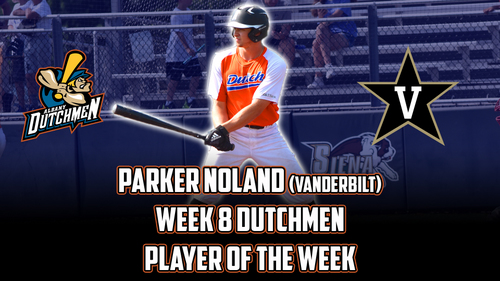 ALBANY, N.Y. – Parker Noland (Vanderbilt) has been named Dutchmen Player of the Week for the period between July 22nd and July 28th.
Noland recorded a hit in seven of the eight games that Albany played this week. The high school senior headed to Vanderbilt in the fall batted .476 at the plate, going 10-21 with one home run and six RBIs. Noland's hot hitting included a seven-game hit streak from July 20th to July 27th.
"A lot of my success came from me being more controlled at the plate," said Noland. "That helped me out with seeing and recognizing pitches."
Noland struggled early in the season with his batting average dipping as low as .200. As the season progressed, the Knoxville, Tennessee native has improved as he adjusts to college pitching. Since July 19th, Noland increased his batting average by almost 50 points to raise his season average to .330. Noland has also been tenacious at the plate, leading the Dutchmen with a .500 on-base percentage.
"I needed to refocus in the middle of the season," said Noland. "It really just took some extra work and extra time."
Noland, along with Dutchmen teammate Will Duff, joins Vanderbilt in the fall as an incoming freshman. The Commodores are the reigning NCAA College World Series Champions, and both Noland and Duff look to make an impact in Tennessee in search of a second straight national title. Their time in Albany has helped adjust from high school pitching to college pitching.
"I knew the transition was going to be really tough," said Noland. "I'm glad I got to come up here before going to Vanderbilt."
Noland and the Dutchmen battle for a home playoff game in the final three matches of the regular season before the PGCBL playoffs begin on Thursday, August 1st.
The next Dutchmen home game is a doubleheader on Tuesday, July 30th against the Glens Falls Dragons. First pitch is set for 3:00 p.m. For tickets and more information, visit dutchmenbaseball.com