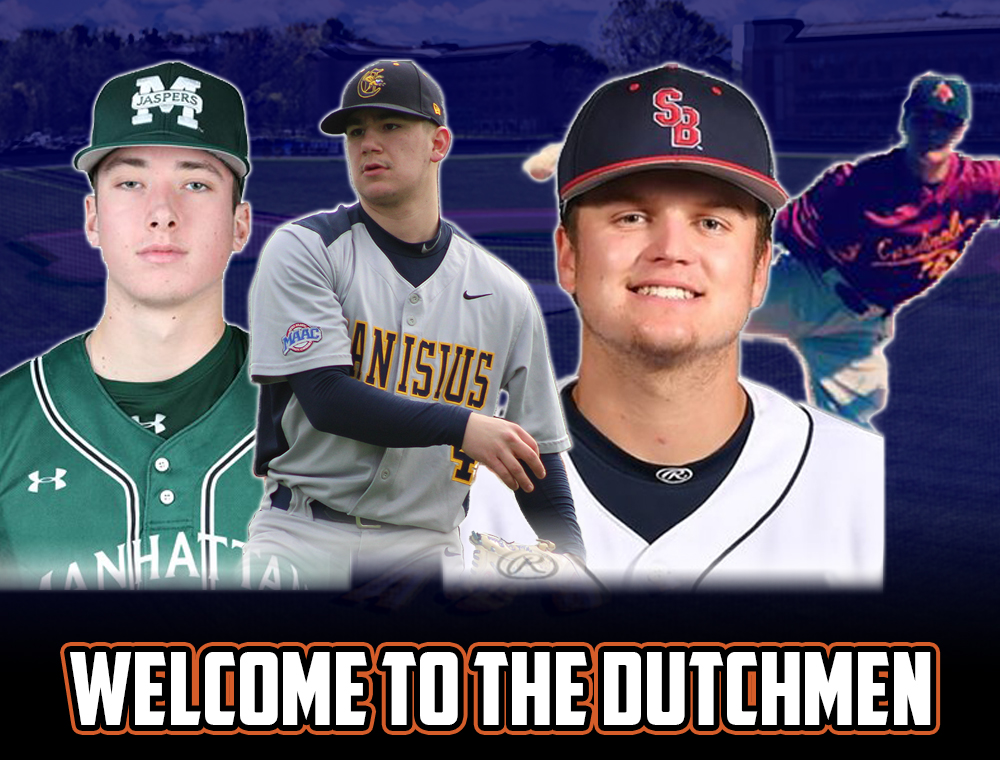 ALBANY, N.Y. – The Albany Dutchmen continue to add to their pitching staff with the addition of four players with ties to the capital region. Greg Allard (Stony Brook), Nick DeBrino (Canisius), Brandon Roberts (St. John Fisher), and Luke Walter (Manhattan) will join a talented set of pitchers toeing the rubber at Connors Park this summer.
"This group of guys right here should be chomping at the bit to get to the summer and start competing again," said Dutchmen Head Coach Nick Davey. "Besides Roberts, the rest of these guys had very little or no time at all on the mound in college. We have had great success with these types of guys because they come to summer ball with a purpose and a little chip on the shoulder to showcase their abilities. The only thing you have to watch out for is letting them go to quick out of the gate; you have to hold them back and make them realize it's a progression for them. Each one of these guys at some point throughout the summer will play a major role in our team's success. But the number one thing we need to do for them is catch them up to speed at the right pace."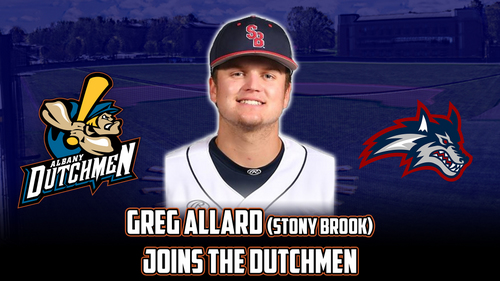 A 5'11" right-hander, Greg Allard is a redshirt freshman from Averill Park, New York who played with the Saugerties Stallions during the 2018 PGCBL season. He featured in 11 games last summer, starting in seven of them, and recorded a 4.19 ERA with 25 strikeouts in 38.2 innings. Allard also enjoyed a successful high school career, including throwing two consecutive no-hitters for the North Greenbush Devil Cats, his travel baseball team.
"We saw Greg firsthand have a ton of success in the PGCBL already as a starter for Saugerties last summer," said Davey. "Just knowing Greg, I know how eager he is to get back on the bump and start competing again. Greg is someone that has played around with an arm angle change a litter and is someone that can truly pitch and get guys out in different ways. He can spin the breaking ball whenever he wants and is someone that you know what you're going to get every time he takes the mound. I look forward to working with Greg on his craft this summer."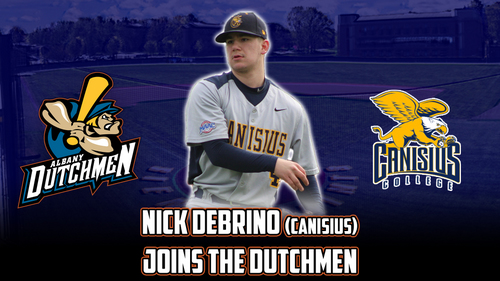 A 5'8" right-hander, Nick DeBrino is a native of Florida but went to high school at Christian Brothers Academy in Albany. A redshirt freshman at Canisius, DeBrino teamed up with former Dutchmen pitcher Nick Bird in 2017 as a member of the Amsterdam Mohawks, where he threw in seven games for the Mohawks and recorded a 4.32 ERA with eight strikeouts in 8.1 innings. DeBrino also pitched for the Mohawks in 2018 and pitching in 17 games out of the bullpen, recording a 4.23 ERA and 23 strikeouts over 23.1 innings. While at CBA Albany, DeBrino played second base in addition to pitching and was ranked the 22nd second baseman in the state of New York by Perfect Game in 2017. Baseball runs in DeBrino's family – his father played in the St. Louis Cardinals organization and his grandfather played in the Los Angeles Dodgers organization.
"Nicky is a kid that hasn't gotten a tone of time in his redshirt freshman year at Canisius," said Davey. "Nick's volume of work doesn't concern us because he is very familiar with the PGCBL as he had a very successful 2018 summer with the Mohawks. He's a type of kid that pounds the strike zone and has a very good slider that will see a lot of swings and misses. As the summer goes on Nicky will be a major piece of our pitching staff."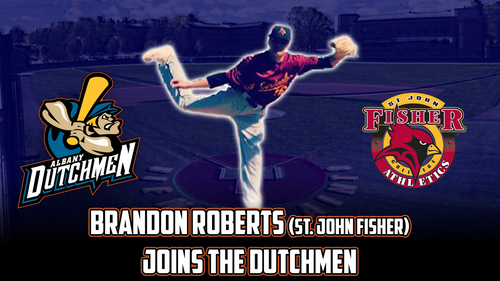 Freshman right-hander Brandon Roberts has played an integral role for St. John Fisher out of the bullpen this season. He has pitched in 11 games and posted a 1.80 ERA with 22 strikeouts over 20 innings for the Cardinals. A graduate of Shenendehowa High School, Roberts was named first team all-league after leading his team in strikeouts during the 2017 season.
"Brandon has had a tremendous amount of success for St. John Fisher in his freshman year," said Davey. "He's someone I've kept an eye on during the season. Brandon has earned high leverage innings for the Cardinals and I don't see that changing for us. I think he will add quality depth to our staff and really look forward to him competing for us this summer. He is a great addition to our roster."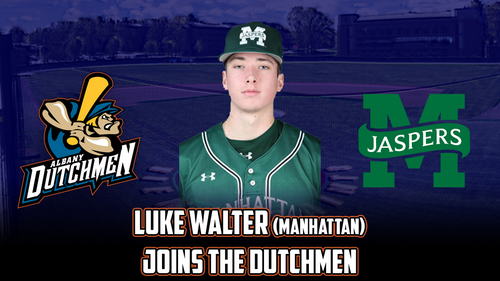 Finally, Luke Walter is a 6'4" right-handed freshman at Manhattan College who is no stranger to playing for the Dutchmen after starring for the Guilderland Dutchmen for four years. He has yet to make an appearance for the Jaspers this season, but he was named the most improved player his senior season at Guilderland, where he was also a two-time academic award recipient.
"Luke keeps our local Guilderland connection intact for another summer," said Davey. "Luke is one of the wild card guys this summer. He is coming off a freshman year at Manhattan where he redshirted but will be starting off fresh for us. He's a guy I truly believe has the ability to be in Manhattan's rotation in the near future. This summer is going to be very important to his development; he needs to dedicate himself to his craft on the field and in the weight room off it. I've known Luke for a long time and I have the utmost confidence in his ability to be successful this summer in whatever role he plays. Our goal is to get him in a place to return to campus in the fall competing for a rotation spot."
Albany starts the 2019 PGCBL season on the road Friday, May 31st at 7:05 p.m. against the Saugerties Stallions. The first home game for the Dutchmen is on Saturday, June 1st at 5:05 p.m. against the Glens Falls Dragons. For ticket information and more, visit dutchmenbaseball.com.