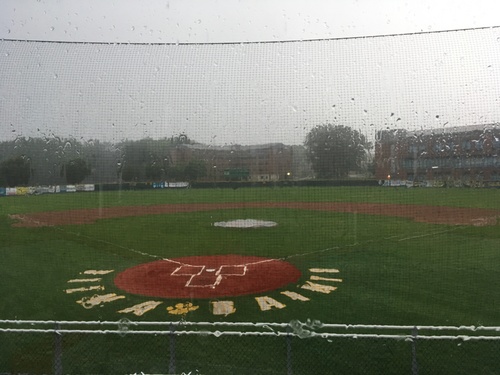 LOUDONVILLE, N.Y. – The Albany Dutchmen (20-14) and the Glens Falls Dragons (11-26) suspended their game on Saturday due to weather conditions. The game was stopped with Glens Falls leading 8-2 in the bottom of the fourth inning.
The Dragons pounced over Dutchmen starter Nick Grabek (Fairfield) in the early innings. Glens Falls took an early lead off a two-run double from Nicholas Campana (Monmouth) in the first inning. The Dragons continued to add to their lead with a single from Brandon Kruzinski (Lynn) and a single from Brian Hart (Marist). Grabek exited the game after 1.1 innings, allowing five runs on four hits and five walks. The right-hander didn't record a strikeout in a start for the first time this season. The Dragons took a commanding 5-0 lead after two innings.
Glens Falls continued scoring in the third and fourth inning off Dutchmen reliever Jacob Steinberg (Ole Miss). One run scored in the third for the Dragons from a Jake Manderson (George Mason) double. Two more runs scored in the fourth inning from a bases-loaded walk to Manderson and a sacrifice fly from Kruzinski. The Dragons exited the top of the fourth inning with a 8-0 lead.
Albany started a rally in the bottom of the fourth inning. Dragons reliever Connor Houle (Franklin Pierce), who signed with Glens Falls right before the game started, came in for his first appearance in the bottom of the fourth. The Dutchmen immediately took advantage with back-to-back doubles from Tommy Pellis (Seton Hill) and Ben Metzinger (Louisville) to start the inning. Metzinger's double scored Pellis to put the Dutchmen on the board.
The Dutchmen grabbed another run before play was stopped in the inning. Will Duff (Vanderbilt) hit a bloop single into shallow right field to score Metzinger and give Albany a second run in the frame. With two outs in the inning, coaches and umpires noticed darkening skies and lighting over the horizon at Connors Park and play was halted.
Albany and Glens Falls were scheduled for a doubleheader on Saturday, but eventual heavy rain suspended play entirely. A make-up date of the games will be announced at a later time.
The Dutchmen's next game is on Sunday, July 21st at home against the Mohawk Valley DiamondDawgs. First pitch is scheduled for 5:05 p.m. For tickets and more information, visit dutchmenbaseball.com