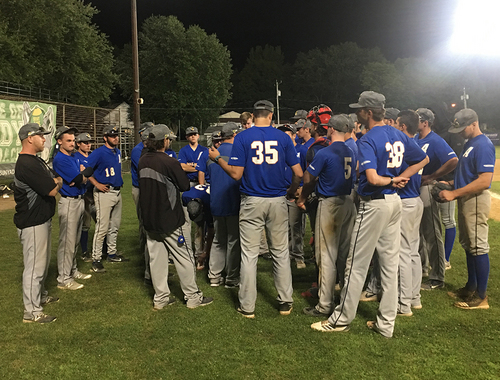 GLENS FALLS, N.Y. – The Albany Dutchmen (23-16) scored in five separate innings defeating the Glens Falls Dragons (13-29) 13-7.
The day began with a continuation game in which the Dutchmen entered down 8-2. They added two runs in the sixth but lost 9-4 in seven innings.
The scoring in game two began in the second inning. A Will Duff (Vanderbilt) single led it off followed by two walks. Nick DeBrino (Brockport) then singled with the bases loaded to score Duff. Chris Seng (Louisville) was hit by a pitch and Parker Noland (Vanderbilt) struck a base hit both resulting in runs. Justin Bench (Ole Miss) brought home the fourth run in the inning after being hit by a pitch.
Glens Falls responded with five runs in the second and third inning. Jack Kelleher (St. John Fisher) blasted a two-run double in the second to cut the lead in half. The next inning with the bases loaded, Kelleher drove home two more runs with a base hit. Devan Kruzinski (Siena) walked to bring home the fifth and go-ahead run. All were off Ian Foggo (The Citadel) who made his second start of the season and walked five Dragon batters.
"Foggo struggled to get ahead in counts today," said Dutchmen Head Coach Nick Davey. "That puts pressure on making great pitches behind and they beat us a couple of times."
Josh Hall (Ole Miss) put Albany back on top with a two-run single to right field in the top of the fifth. Glens Falls scored the tying run after a wild pitch with two outs and the bases loaded scored Michael Golankiewicz (Merrimack).
The sixth saw singles from Noland and Mitchell Henshaw (St. John's). Duff delivered a base hit to bring the score to 7-6. Glens Falls tied it up again in the bottom of the sixth after a dropped third strike advanced to first and Joseph Impeduglia (Concordia). The Dutchmen bullpen did not allow Glens Falls to score in the final three innings.
With two outs in the eighth Duff was struck by a pitch, the tenth time this season. Duff stole second and advanced to third after an errant throw from Catcher Carson Dunkel (Siena). Mike Handal (Fairfield) drove home Duff with a single to put Albany up 8-7. Duff went 3-5 on the day with an RBI and had a bounce-back game after committing two errors yesterday.
"Duff earned a spot after getting a hit in the continuation game," said Davey. "I'm proud of him for bouncing back tonight."
The Dutchmen added five runs of insurance in the ninth highlighted by an Aaron Roose (Azuza Pacific) two-run single. Jacob Steinberg (State College of Florida) allowed one hit over the last two innings to earn the save.
Albany is currently 6.5 GB of first and two games back of the second-place Mohawk Valley DiamondDawgs. They will play four games in the next two days, but morale remains high.
"Morale is good, just have to get some guys rest," said Davey.
Albany's next game is a home doubleheader Saturday, July 27th against the Oneonta Outlaws First pitch is set for 3:00 PM. For tickets and more information, visit dutchmenbaseball.com.