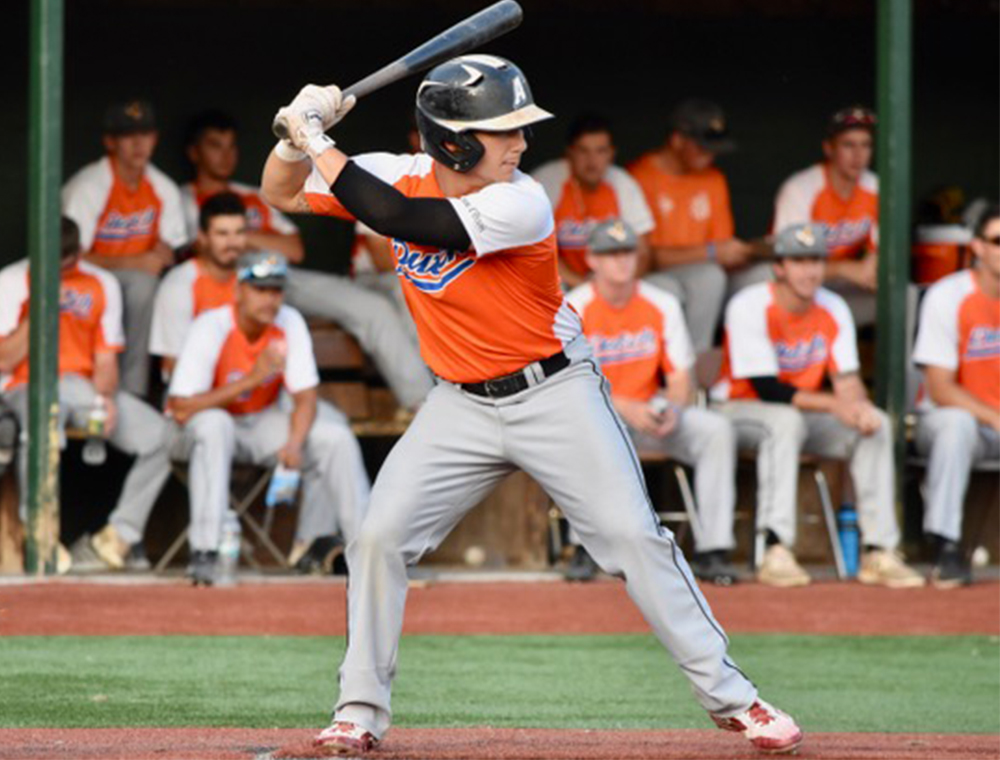 AMSTERDAM, N.Y. – The Albany Dutchmen lose game one of the PGCBL East Final 8-4 to the Amsterdam Mohawks.
The Albany starter was Logan Savell (Ole Miss) who allowed two earned runs through five innings in his previous start against Amsterdam on July 14th.
Amsterdam's Dalton Reese (Tennessee) led off the bottom of the first with a walk and stole second base. A groundball from Maxwell Costes (Maryland) to the left side of the infield put Reese in a run down. After a series of throws, the ball came to Savell at third and it bounced off his glove and out of play to score Reese. Mitch Hartigan (Florida Atlantic) then plated Costes with a groundout.
In the top of the third, the Dutchmen responded off Nick Massa (Manhattan). Nick Debrino (Brockport) singled and Ryan McGee (Siena) was hit by a pitch. A passed ball put both in scoring position. Justin Bench (Ole Miss) brought home Debrino with a sacrifice fly and Tommy Pellis (Seton Hill) struck a ball to center to score McGee.
In the bottom half of the third, the Mohawks matched Albany. Paul Franzoni (NJIT) walked and advanced to third after a Reese single. Costes then ripped a single to score Franzoni and move Reese to second. With Reese at third after a groundout, Richie Barella (Manhattan) then hit a sacrifice fly to left. Savell would catch Costes trying to get to third to end the inning.
In the fourth Debrino got one back after he hit his first home run of the summer on a deep fly ball to left field. Savell began the bottom of the fourth but wouldn't record an out. He walked two and hit Johnny Decker (Stony Brook) with a pitch. Will Hesslink (Boston College) entered and Savell would exit after issuing four walks through three innings.
"He couldn't harness it today, but kept us in the ball game," said Dutchmen Head Coach Nick Davey "From day one to now he is a totally different kid, he has a new energy and wanted the ball today."
DJ Poteet (Wake Forest) grounded out to short which scored one run and a sacrifice fly from Franzoni brought the other home making the score to 6-3. Hesslink wouldn't allow a hit over the next two innings. Amsterdam's Dale Stanavich (Herkimer CC) would one-up him and struck out six over the next three. Stanavich allowed three earned runs over four innings in a loss on July 28th, he earned the win today.
"That was the best we've seen of him," said Davey. "He did what he had to do."
In the seventh inning, Hesslink allowed his second hit a solo blast to Costes. He finished with three strikeouts along with three walks through four innings. In the top of the eighth, the Dutchmen were down four, Ben Metzinger (Louisville) hit a single and moved to second after an error from Reese in left. Metzinger moved to third after a wild pitch and Aaron Roose (Azuza Pacific) hit an infield single to score Metzinger. The Dutchmen stalled thereafter a strikeout from Luke Franzoni (Xavier) and Roose was caught stealing.
Reese had an RBI groundout to short in the eighth as the Dutchmen went down four going into the ninth. Trey Alderman (Marshall) had a 1-2-3 ninth to end the game.
The game saw many controversial calls that affected both sides. Emotions ran high in both dugouts and Coach Davey huddled his team midgame.
"I told them to not worry about extracurricular stuff," said Davey. "Their job is to play and mine is to manage and worry about everything else."
The Dutchmen will play game two of the PGCBL East Division Final tomorrow at Connors Park at 5:05 PM. If necessary, game three is on Sunday, August 4th at Shuttleworth Park at 6:45 pm.