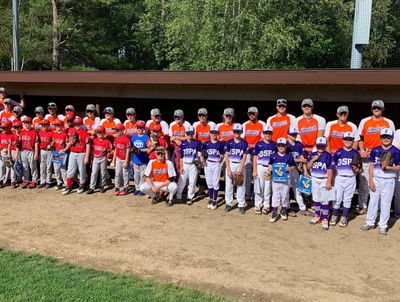 Pitching was dominant in both games of the doubleheader between the Albany Dutchmen and Amsterdam Mohawks on Saturday evening at Dutchmen Field at Keenholts Park. Amsterdam swept both games by scores of 3-0 as pitchers from both sides were outstanding for all 14 innings.


Game one featured Cole Patten (Seton Hall) for Amsterdam going up against Connor Eisenmann (UAlbany). Patten threw 3.2 shutout innings to go with four strikeouts and the same amount of hits, while Eisenmann threw 4+ and fanned eight batters but took the loss while allowing two runs.


Amsterdam's first run came in the first inning when Brett Young (Siena) singled then scored on a single by Robbie Armitage (Marist). The other two runs of the game came courtesy of solo home runs from Matt Shaw (Maryland) and CJ Funk (Pittsburgh) for the Mohawks. For the Dutchmen it was Kyle Vinci (Princeton) picking up two singles as the lone Albany player with a multi-hit game.


Out of the bullpen it was Jake Manderson (Georgetown College) for Albany throwing three innings with one strikeout and allowing two hits and a run. Nick Smith (Evansville) was the lone bullpen pitcher for Amsterdam in game one as he threw 3.1 innings allowing two hits while keeping the shutout intact to help Amsterdam to a game one win.


Game two saw more pitching dominance, but more bullpen pitchers made appearances. Shane Harris (Evansville) got the start for Amsterdam going three innings with four strikeouts and allowing three hits. Ben Seiler (Siena) threw four innings for Albany with three strikeouts allowing three hits and three runs (two were earned).


The Albany bullpen continued to be brilliant as Arlo Marynczak (Siena) and Michael DiMartino (Fairleigh Dickinson) combined to throw three no hit innings which featured five strikeouts. Amsterdam's game two bullpen shined in the form of Ian Cooke (UConn), Gavin Stellplfug (Maryland) and Matt Gonzales (Barton) combined for four innings with nine strikeouts without allowing a hit.


The lone multi-run inning of the day came in the second inning in game two in which Bryce Eblin (Alabama) and Jake Reinisch (Wake Forest) each picked up RBI doubles.


Albany (3-7) returns to action at home at 6:35 on Monday night against Saugerties. Amsterdam (8-2) does not get tomorrow off as they travel to Glens Falls for a 7:00 first pitch against the Dragons on Sunday evening.