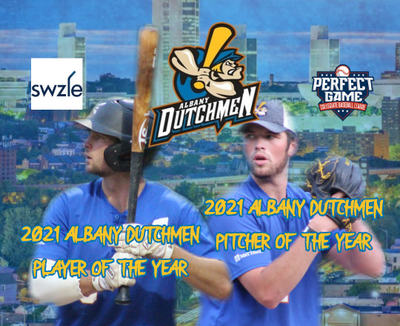 (ALBANY, NY)-- Ben Seiler (Siena) has been named the 2021 Albany Dutchmen Pitcher of the Year Presented by SWZLE, and Will Stroud (Azusa Pacific) has been named the 2021 Albany Dutchmen Player of the Year Presented by SWZLE.
The big lefty has started a game every single weekend, and has become a familiar face to fans at Keenholts Park, making five home starts. The Albany Academy graduate got the ball for the home opener, in which he threw five shutout innings, allowing two hits and striking out six in a 3-0 win against Saugerties on June 5th. On June 19th, he had another dominant five inning outing, this time not allowing a hit while fanning five batters. On June 25th, he had yet another scoreless outing, tossing six innings and punching out eight hitters en route to winning Player of the Week for Week Three.
Most recently, he threw six innings, giving up two earned runs and four hits while punching out six on July 22nd. His 2.83 ERA ranks fifth in the PGCBL, while his 42 strikeouts also ranks him in the top ten.
"I want to thank my teammates and my family first and foremost, they've been big for me and supporting me throughout this season I couldn't have done it without them, and Coach Davey of course as well as Jason Brinkman and the ownership group of the Albany Dutchmen for bringing me back for my third year," Seiler said.
Seiler had an extremely successful season in his third summer with the Dutchmen, a team he keeps coming back to for his summer baseball.
"It's one of the most professional organizations out there, we do things the right way with the Dutchmen, everyday we come to the field knowing what we need to accomplish and what we need to do to get better at the game, it's a testament to Coach Davey and the staff, they do a great job of treating us the right way and getting the best out of us," Seiler said.
Seiler has always had the build and the arsenal to be a dominant pitcher, but coming into this summer he had his sights set on becoming a more complete pitcher.
"I struggled in the spring mentally and I allowed that to effect my performance on the field, when I came to the Dutchmen I hit the reset button and got a fresh start and it felt really good, everyday I stuck to my routine and having the teammates and coaches around you like I did this year made it easy for me to do my job when I stepped on the mound," Seiler said.
One of the biggest things Seiler did on the mound this summer that led to his dominance was focusing on the controllables.
"I tried to focus on myself and not the things out of my control, whether it be errors or what the other team is yelling at me, whatever it is I was trying to stay locked in on the goal," Seiler said.
Getting a fresh start and focusing on the mental side of pitching is something Seiler will use to his benefit in the upcoming season at Siena.
"You're pitching wherever you are, the environment shouldn't effect how you pitch and that's the realization I had this summer, whether it's at school or with the Dutchmen I'm stepping on the mound with the same goals, that's to compete and win," Seiler said.
Heading into this fall at Siena, Seiler has his sights set on winning a MAAC Championship as he will look to continue the momentum of an amazing summer into his school season.
Now for the 2021 Albany Dutchmen Player of the Year Presented by SWZLE, Will Stroud. Stroud has been consistent all year long in the top half of the order. The switch hitter has picked up a hit in 22 of his 34 starts and had 9 multi-hit games on the season. The California native had back to back multi-hit games on June 10th and 11th, going 5-6 and getting his summer rolling. On June 16th at Oneonta, he went 5-5 with his first home run of the summer to go with 3 RBIs.
From June 26th to July 4th, he went on a five game hit streak which included a 3-3 and 2 RBI night on the 27th. He was 7-14 with two doubles, seven RBIs and four stolen bases from July 12th to July 17th en route to winning Week Six Player of the Week. His .330 average and 16 stolen bases both rank in the top 15 in the PGCBL.
"It's a huge honor, I'm really appreciative of the whole Dutchmen organization for the summer they've provided for me, as well as my host family for being great and providing me a great place to stay this summer," Stroud said.
A native of California, Stroud made a huge leap outside of his comfort zone and into a town across the country to play with a group of guys he'd never met before.
"It's definitely a lot different, I really enjoyed it though and I was really happy with a lot of things I got to see in New York, it's a lot more humid here but I really enjoyed the atmosphere and my time out here," Stroud said.
This summer was Stroud's first summer with a host family, as Stroud, Jack Peterson, and Kyle Vinci all stayed with Host Family Coordinator, Lindsey Mooney.
"The Mooney's were great, they showed us a lot of places around New York, they provided us with a great experience and I'm grateful for everything they've done, I couldn't ask for a better host family to stay with," Stroud said.
Some of Stroud's fondest memories of the summer are off the field with his host family, going to attractions in New York as well as the Northeast.
"We went to Boston one day, got to tour around Boston and see Fenway Park, we also went to Lake George one day which was beautiful, those are two highlights of my summer," Stroud said.
Stroud joins a long line of Azusa Pacific players to not only play for the Dutchmen, but also have success in Albany, as he became the sixth Cougar to pick up a Player of the Week honor in his summer campaign with the Dutchmen.
"I'll tell guys out there that it's a great experience and if any of them have the opportunity to come out here I'd highly suggest it, there's a lot of good baseball out here, you get good coaching, and it's a summer you won't forget," Stroud said.
Stroud batted .318 in 22 at bats last season at Azusa Pacific, as he saw action in 15 games and started six of those, but being an everyday starter with lots of success this summer, Stroud will head back west with plenty of confidence.
"My summer definitely gives me some confidence going into the fall and spring, hopefully I can take the approach I had this summer over to school ball and hopefully it'll work out for me," Stroud said.
Stroud reflects on his summer in Albany as a summer in great atmospheres as well as surrounded by great people.
"I saw a lot of good arms and it was always a fun atmosphere to play in, every place we played was a good stadium and great fans, I'll probably just remember the most just hanging with the guys and the friendships I made this summer because we had a lot of great guys on this team that hopefully I'll stay in touch with throughout my life," Stroud said.
Stroud plans on enjoying time with his family and relaxing at home until he goes back to school to start the final year of attaining a Bachelor of Science in Business Finance.