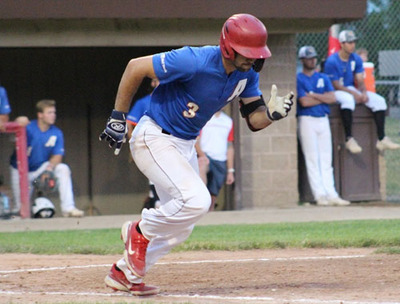 ALBANY, NY) – The Albany Dutchmen are thrilled to begin announcing the roster for the 2022 season, the first group features a trio of returners from the 2021 squad. Nick Schwartz (SNHU) returns after being named First Team All-League last summer, Chase Carroll (UAlbany) comes back as a pitcher only after we saw him as a two-way player last summer, and Ty Gallagher (Herkimer) will bring his energy back to the squad this summer.
Nick Schwartz had a great summer at the plate in 2021, one of three Dutchmen voted to an All-League team, but the only to receive the First Team nod. His .340 average, 17 walks and nine stolen bases all led catchers, while he also drove in 10 runs and scored 20 in his 100 at bats.
"I was in the process of transferring so for me I just wanted to play my game, not try to do anything too special and it was a great turnout with the help of my coaches and teammates," Schwartz said of last season.
Ty Gallagher carried a .257 average with 11 RBIs in 70 at bats last summer, but the Saugerties native found his stride in July after the June adjustment to top tier pitching. Gallagher batted .359 in July (14-39), and raised his batting average from .121 at the end of June to .257 at the end of July.
"It was a tough adjustment in the beginning, but when I was struggling I had everyone trying to help me in BP, in the cage and Coach Davey's constant support," Gallagher said of what went into his July success.
Chase Carroll had some struggles at the plate, but had success when he took the mound. Carroll worked four shutout innings, allowing two hits and punching out nine, as he was the only Dutchmen pitcher to not allow a run last summer regardless of innings thrown.
"I'm a pitcher now, focusing on that for the time being, this summer I'm looking forward to having a good mentality on the mound, attacking and having a good summer overall," Carroll said of his adjustment to being a two-way player.
Head over to Albany Dutchmen on Youtube to check out their introduction interview!