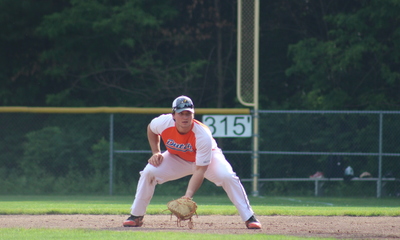 (ALBANY, NY) – The fourth group of Albany Dutchmen player announcements for the 2022 season features a set of Ivy League teammates, as Kyle Vinci (Princeton) and Caden Shapiro (Princeton) will be joining the squad.
Kyle Vinci comes back to Albany after a 2021 campaign that saw him on a hot streak in mid-June before a season ending injury that cut short a promising summer. Vinci's freshman season at Princeton was canceled, but Vinci made a quick adjustment to the top tier Division I arms of the PGCL. After starting 0-16, the New Jersey native caught fire, going 6-17 with two home runs and four RBIs across his final five games of the summer, a streak he attributes to his pregame work.
"I was working with Coach Davey on my swing and my approach, just working in pregame on a timing mechanism with my swing and eventually I figured it out and started to hit the ball well," Vinci said.
Caden Shapiro will be joining his Princeton teammate in the Capital Region this summer as a two-way pitcher/outfielder for the Dutchmen. On the mound in his current school ball season, Shapiro has thrown 4.1 shutout innings, and at the dish he carries a .240 average and a .355 on base percentage. Caden grew up around baseball, as his father, Mark is the President and CEO of the Toronto Blue Jays, being around the game at its highest level has only made Shapiro appreciate it more.
"I've had some amazing experiences and been blessed with incredible opportunities, growing up around the game has only increased my love for it, and what I'm willing to do, watching guys at the highest level work and compete gives me such a respect for the game," Shapiro said.
Stay tuned for group five, coming soon!