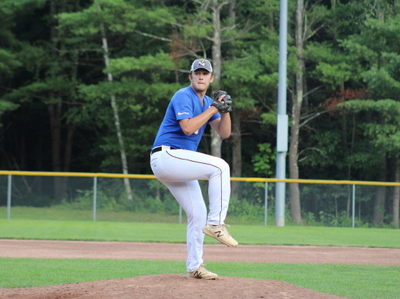 (ALBANY, NY) – The fifth group of Albany Dutchmen player announcements for the 2022 season is made up of two pairs of collegiate teammates. Alex Brill and David Silva Jr. join the squad from Ohio Dominican University, while JT Larson and Scott Griesemer come up from University of North Florida.
JT Larson returns from the 2021 squad, a summer in which he was a cornerstone of an excellent Dutchmen bullpen. Larson logged 16.2 innings on the summer with a 3.24 ERA and a 10.26 K/9. Larson speaks highly of his 2021 summer, citing reps, improvement and coaching as reasons for his return.
"With Coach Davey and Coach Smoke I felt like I was getting work in and they were helping me progress, most summer leagues are just getting your work in and doing your own thing but I felt like I got real quality instruction at the same time," Larson said.
Scott Griesemer has made five appearances out of the bullpen as a freshman at UNF, including 1.2 hitless innings against the University of Florida in his collegiate debut. Griesemer came up as an infielder/pitcher, but has focused primarily on pitching since arriving at UNF.
"It's quite the adjustment, I was more of a hitter, pitching was on the side, it's been different getting to focus on pitching completely," Griesemer said.
David Silva Jr. was named G-MAC Freshman of the Year in 2021 and received First Team All-GMAC honors. Silva Jr. burst into the collegiate scene in a season that saw him bat .372 with 14 doubles and 17 stolen bases, all which ranked top seven in the conference. Silva Jr. attributes his confidence and mental approach to baseball as the reasons for his success, stemming from his mom, as well as his favorite players Javier Baez, Fernando Tatis and Tim Anderson.
"I was believing in my abilities, I know I'm a good player so I have to bring that swagger to the game, go to the field and act like I'm the best player, it's more of self talk, baseball is a very mental game, all the self-talk and believing in my abilities carried over to that great year," Silva Jr said.
Alex Brill is another stellar piece of the ODU lineup, also named First Team All-GMAC in 2021, his sophomore year featured a .321 batting average, 16 doubles, and a team-leading 9 home runs as well as 37 RBIs to lead the squad. Brill has a quiet confidence about himself, saying his attitude in slumps is what makes him a special player.
"The biggest thing I'm able to do is accept failure, being able to accept your failures and learn from it will make you a better player, whatever happens just wash it and then move onto the next game," Brill said.
Stay tuned for group six, coming soon!