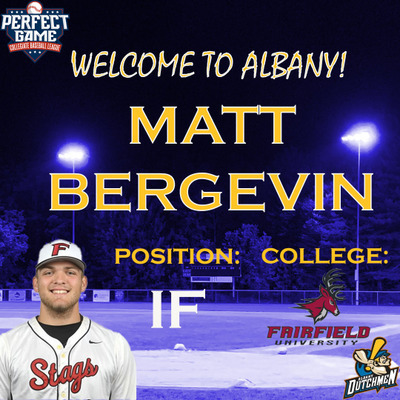 (ALBANY, NY) – The sixth group of Albany Dutchmen player announcements for the 2022 season is made up of two pairs of collegiate teammates from the MAAC. Matt Bergevin and Grant Smeltzer join the squad from Fairfield University, while Hunter Sabbers and Jack Wren hail from Marist College.
Matt Bergevin is the starting First Baseman in his first year at Fairfield University. The Arizona native carries a .266 Batting Average with 19 RBIs for the Stags, as well as a team leading 4 home runs and .824 OPS through 26 games. Bergevin had a unique journey to Fairfield, after reaching out to the Stags coaching staff when they knocked out his hometown Arizona State squad in last year's NCAA tournament, he was offered a roster spot. While Bergevin's entire collegiate journey can be found on the Albany Dutchmen YouTube page, it was made clear to him that he was welcome to join the Stags on the other side of the country.
"When I was recruited they made it obvious I had a chance to impact the team early, but to do this has exceeded my own expectations, it's easy, I've got real good guys around me in the lineup, and Coach Fay is doing a real good job keeping me on the right path," Bergevin said.
Grant Smeltzer is a Freshman Pitcher at Fairfield University, touting a 3.24 ERA, .246 Opponent Batting Average, and 6 strikeouts through 16.2 innings of work out of the Stags bullpen. Smeltzer has made an immediate impact to the Fairfield staff, as he is 2nd on the staff in innings pitch behind '21 Dutchmen Colin McVeigh. Smeltzer also has a fascinating story, as he utilized his 2020 canceled HS season by throwing with childhood friend, and 2021 MLB Draft 9th overall pick Benny Montgomery. In that span of a few months, Smeltzer developed exponentially and started getting Division I looks.
"I didn't have any offers, I had a little bit of D3 interest, then my fastball just started to climb, there was COVID and not many events happening, I went to an event that was live streamed, struck out seven of eight batters faced then got a call from Fairfield, Connecticut," Smeltzer said.
Jack Wren is in his first year at Marist but listed as a junior after transferring from Junior College. Wren had both years of his junior college career canceled, but was still able to get a spot on the 2022 Marist Baseball roster.
"My freshman year was when COVID unfolded, I went back for my second season of JUCO, mid-January my sophomore year got canceled, I didn't know what to do, but I was able to get in touch with Marist and they liked what they saw in me," Wren said.
Hunter Sabbers is in his second year at Marist. Despite not appearing in a game yet, he was an All-Star last summer in the ACBL for the North Jersey Eagles, in a season that he says helped his confidence, and will continue to do the same this summer in Albany.
"This summer I'm expecting to have some fun, at the end of the day summer ball is about having fun and getting better, I feel like I've developed in pitching and I get better everyday I go on the mound, I'm excited to head up to Albany to win, develop and get better," Sabbers said.
Stay tuned for group seven, coming soon!