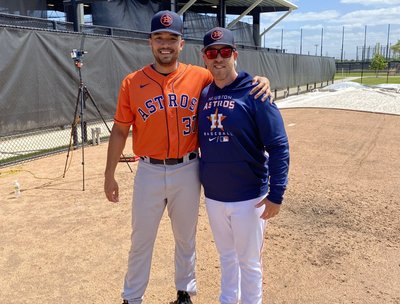 (ALBANY,NY) – Former Albany Dutchmen Assistant Coach Sean Buchanan has worked his way up in the baseball world since we last saw him in Albany in 2018, as he is now serving as the Pitching Coach for the FCL Astros in the Houston Astros Organization, the same team '18 Dutchmen Ian Foggo is pitching for this season.
Buchanan was on the staff for three summers in Albany, 2013, 2014 and then returned to the Capital Region for the 2018 season. Buchanan credits Albany for taking a chance with him, and the opportunities the Dutchmen gave him at the beginning of his coaching career
"The handful of summers that I got to spend working with the Albany Dutchmen, Coach Davey, and the rest of the organization were some of the most important summers of my life. They gave me a shot as an unproven young coach and they gave me a home when I needed one the most," Buchanan said.
Buchanan worked on the staff of five different colleges, but remembers his time in Albany as being critical to his development both on and off the field.
"The players and the people I've had the opportunity to work with during my time with the Dutchmen played a huge role in helping me become who I am today both as a coach and as a person," Buchanan said.
Buchanan has served his time grinding and learning in the world of baseball, and he now makes the leap to professional baseball.
"Once the Astros reached out to me and I got to know some of the people in the organization things really started to click. They have established an unbelievable culture of growth and development in their player development department and I'm really lucky to have the opportunity to work with everyone involved," Buchanan said.
The Albany Dutchmen wish Coach Buchanan, as well as the rest of the Dutchmen in the Pros the best of luck this season!