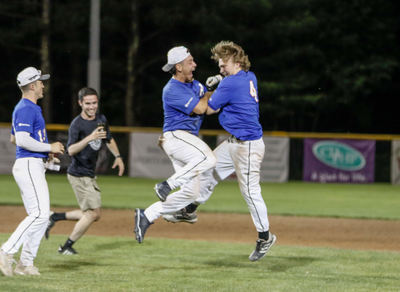 (ALBANY, NY) – The Albany Dutchmen advanced to 4-0 after a back and forth game tonight against the Saugerties Stallions to win in extra innings, courtesy of a Danny Rogers walk off two run home run.
Saugerties led 1-0 after one inning courtesy of a sacrifice fly from Cody Kelly (Minnesota).
Anthony Raimo Jr. (Rhode Island) answered back in the bottom of the second with a solo home run that was annihilated to right field to tie the game. After Saugerties scored in the third, the Albany native Raimo struck again on an RBI double in the bottom of the fourth to tie the game yet again, this time driving in Matt Bergevin (Fairfield).
Albany trailed 3-2 heading into the 8th, when Danny Rogers hit an RBI single that scored Riley Montayne (Adirondack CC) to tie the game, then on the next batter Matt Bergevin struck a two run shot to left to put the Dutchmen ahead 5-3.
Down to their final out in the top of the ninth, Brandon Fish (UMass Lowell) knocked a two RBI double to tie the game up and send it to extras.
Saugerties scored on a wild pitch in the top of the 10th, before the hometown hero struck. With two outs in the bottom of the 10th, and a man on base, Danny Rodgers, the Troy native blasted a two run walk off home run to right field to send the fans home.
Albany returns to action Wednesday at Dutchmen Field at Keenholts Park at 6:35 to take on the Oneonta Outlaws, as the Dutchmen look to remain undefeated.