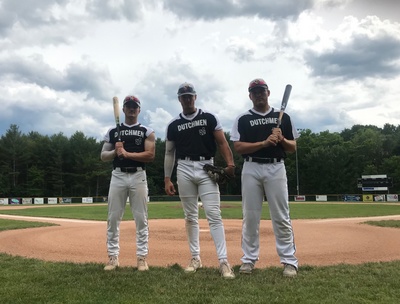 (ALBANY)-- Albany picked up the doubleheader sweep of Watertown Rapids at Keenholts Park on Saturday by final scores of 3-0 and 9-1 as the Dutchmen advanced to 7-1 on the season.
Game one was a pitchers duel as the seven inning contest took just an hour and 48 minutes. Arlo Marynczak (Siena) shoved for the Dutchmen, as he threw all 7 innings without allowing a run, the Bethlehem graduate allowed just 3 hits and struck out 9 batters.
All three game one Dutchmen runs came in the 5th inning, which was highlighted by a Nick Plue (Manhattan) bloop single that put the Dutchmen on the board before Cam Jordan (San Jacnito) and Caden Shapiro (Princeton) picked up an RBI apiece on their own sacrifice hits.
Phenomenal starting pitching from Coach Davey's squad rolled into the second game as Hunter Sabbers (Marist) threw 4.1 innings allowing just 1 run while punching out 6 Watertown hitters.
Albany's game two offense hit an immediate stride as Tyler Young (Lehigh) led off the bottom of the first with his first single as a part of a three hit game. Matt Bergevin (Fairfield) and Anthony Raimo Jr. (Rhode Island) each knocked a sacrifice fly in the bottom of the first to get the offense rolling.
The offensive highlight of the day came in the bottom of the 6th frame as Brody Keneston (Le Moyne) blasted a three run home run to give the Dutchmen some breathing room.
Albany returns to the field Monday at 6:35 in Amsterdam to take on the Mohawks in a battle of the league's top two teams.