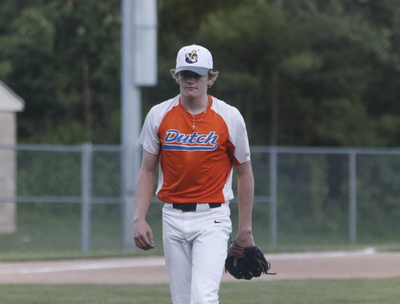 (ALBANY)-- Albany Dutchmen picked up a unique doubleheader split against Boonville Baseball Club, dropping game one 5-2 and winning game two 7-1.
All five Boonville runs came in the 5th inning, and all were unearned, with four of the five coming with two outs in the frame.
Nick Plue (Manhattan) hit his first home run of the season in the bottom of the 5th, and the Dutchmen were able to turn things around into game two.
Albany got a wacky game two win as the Dutchmen put up seven runs on just one hit, which was an Anthony Raimo Jr. (Rhode Island) solo home run in the home half of the 5th.
Albany found other ways to win tonight, as game two totaled nine walks and nine stolen bases from the Dutchmen offense, as well as six shutout innings from Dan Keaney (Marist) on the hill.
The home stand continues tomorrow as the Dutchmen host Glens Falls tomorrow night for a 6:35 first pitch against Glens Falls, for Horse Racing Night at Keenholts Park.