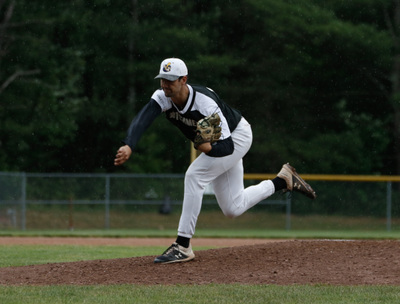 (Saugerties)-- The Albany Dutchmen allowed just one run to the Saugerties Stallions at Cantine Field Saturday night, but that's all they would need en route to a 1-0 victory.
The lone run of the ballgame would come in the bottom of the first, as Easton Bertrand (Minnesota) took a hit by pitch with the bases loaded to score Evan Goforth (Indiana) and provide the final score.
Outside of the shaky first, Arlo Marynczak (Siena) had his way with the Stallions bats in his five innings of work, allowing just three hits and one walk to go with the lone run, while racking up five strikeouts in the start. Scott Griesemer (North Florida) and Hunter Harris (Santa Ana) would combine to throw the final three innings, allowing just two hits and one walk to go with Griesemer's one strikeout.
The Dutchmen bats were quiet through the first seven innings, with just one hit off the bat of Danny Rogers (Rutgers), before picking up three in the eighth. David Silva Jr. (Ohio Dominican) lead off the inning with the first hit before being picked off, and Matt Bergevin (Fairfield) and Rogers followed with singles of their own. A pop out and foul out ended the threat.
Albany goes to 13-7 on the year after tonight's ballgame with Sunday off, and return to action Monday night when they host the Amsterdam Mohawks at 6:35 PM.