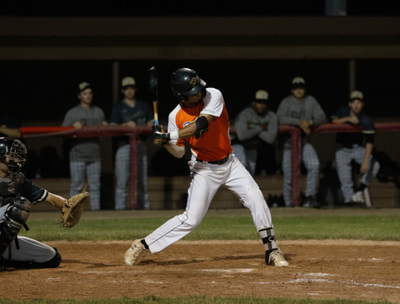 (ALBANY, NY)-- Albany fell to Saugerties 8-7 in a 24-hit contest at Keenholts Park on Tuesday night.
Saugerties took an early 6-0 lead in the 2nd inning in a frame that featured back to back two-RBI singles from Jahlani Rogers (FGCU) and Brandon Fish (UMass Lowell) as the Stallions catapulted to the advantage.
Albany got on the board in the 4th courtesy of a two-RBI single off the bat of Tyler Young as a part of his three-hit evening, cutting the Dutchmen deficit to four.
Saugerties extended the lead to five runs in the top of the 7th on an RBI single from Easton Bertrand (Minnesota). Albany tied the game in the home half of the frame on a pair of fielder's choices, a couple of bases loaded walks, and a Nick Schwartz (SNHU) single that completed the comeback.
The deciding run came in the 8th on a bases loaded hit by pitch which lifted Saugerties to a 8-7 victory. In the bottom of the 8th, Albany got a spark from a David Silva Jr. (Ohio Dominican) double in his four-hit night, but with no outs and the bases loaded, the Dutchmen were unable to capitalize.
The two teams combined for 31 runners left on base, 17 walks and nine pitchers in the three and a half hour contest.
Albany returns to Keenholts Park tomorrow night for a 6:35 first pitch against Amsterdam.