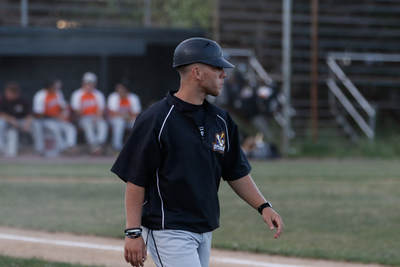 The Albany Dutchmen are excited to announce the hiring of Jordan Bernacet as the team's new Head Coach. He replaces former Head Coach, Nick Davey, who retired after a 13-year career at the helm. Bernacet becomes just the 3rd Head Coach for the Dutchmen entering the team's 15th season.

Bernacet will make his return to the Dutchmen in the lead role after working as an Assistant Coach during the 2022 season.
Dutchmen Vice President & General Manager, Jason Brinkman, welcomed the new head man.

"We're ecstatic to announce the hiring of Jordan as the Dutchmen Head Coach. He was an integral member of our organization last year and look forward to having him back in the dugout this summer. His presence, professionalism, baseball knowledge, and intuitive leadership are all qualities that will make him a successful Head Coach."

Bernacet will look to build on the foundation in place and is excited for the new opportunity.

"I'd like to thank Paul Samulski (owner), Jason Brinkman, Nick Davey, and the entire Dutchmen organization for choosing me to be their next Head Coach," said Berncaet. "I'm excited about this opportunity and looking forward to working with the incoming Dutchmen players. Coach Davey developed a winning culture in his 13 years here. It was an amazing experience to be a part of and I truly am blessed to be able to build upon the already strong foundation he set for us."
Bernacet currently serves as an Assistant Coach for Savannah State University (SSU) and has done so for the past three seasons. Prior to his time with SSU, he served as an Assistant Coach at Bryant & Statton College for two seasons.
Bernacet had a successful playing career at Division II Dominican College of Blauvelt, where he hit .353 during his senior season. Upon graduation, Bernacet co-founded the Kings Way Monarchs, a Christian College Prep/Youth Travel Baseball Organization to begin his coaching career.
Bernacet credits those he has worked and played with for continuing to grow as a coach.
"I'd also like to thank all of the former coaches and teammates I've shared the field with that have had an impact on me in the early stages of my coaching career," stated Bernacet.
The Dutchmen open the 2023 season on the road on June 1st and will play their Home Opener at Dutchmen Field at Keenholts Park on Saturday, June 3rd.