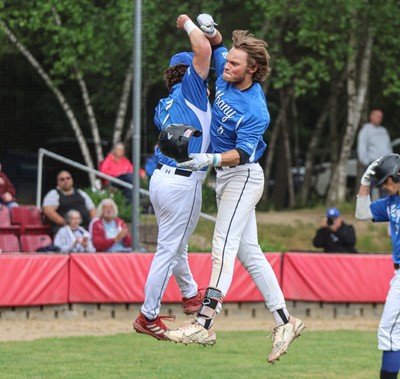 June 3rd, 2023
Guilderland, NY: The home opener for the Albany Dutchmen was exactly what you would hope for: a doubleheader sweep over the visiting Watertown Rapids, kicked off by a 13-1, run-rule victory in 6 innings. The Dutchmen got on the board early as St. Rose CF Vince Venditti hit a leadoff home run on the first pitch he saw. While that was the only run scored in the 1st inning, Albany followed that up with another in the 3rd, 3 more in the 4th, and finally 8 runs in the 6th, helping draw a mercy in an already shortened 7 inning game.
Aside from Venditti's work at the plate, which included 4 RBIs, he was extremely active on the base paths, swiping all 4 bags he attempted, and putting new head coach Jordan Bernacet's crew in scoring position multiple times. Albany went 7/7 as a team around the diamond and, in the box, 6 different players recorded RBIs, including Xavier SS Donovan Canterberry with 3; two of which resulted in the game ending run-rule victory.
The Dutchmen kept their winning ways going into game two of the doubleheader, defeating the Rapids 6-3. After falling behind 1-0 in the first inning, a walk by Venditti and double by Canterberry would set up Herkimer's Tre Mariano to blast a two-run double to deliver the Dutchmen the lead, 2-1.
The score would remain 2-1 before Korson Hastings' (Trinity University) RBI single in the fourth inning and Tyler Kipp's (Fairfield) two-run single in the fifth. The Rapids got two runs back in the sixth inning, but Vince Venditti added an RBI single for insurance in the 7th.

The Dutchmen got a dominant relief pitching performance from Clayton Jackson (Trinity University) who replaced starter Jacob Maurer (Lafayette). Jackson came in the fourth inning and got the first six batters he faced out. Through three innings Jackson had six strikeouts. Warner University's Brayden Childress closed the game for the Dutchmen, retiring the Rapids in four batters to get the save.
The Dutchmen will continue their winning season tomorrow night in Saugerties. First pitch from Cantine Field is scheduled for 5:00PM. The Dutchmen return home to Dutchmen Field at Keenholts Park on Monday at 6:35PM against the Glens Falls Dragons.