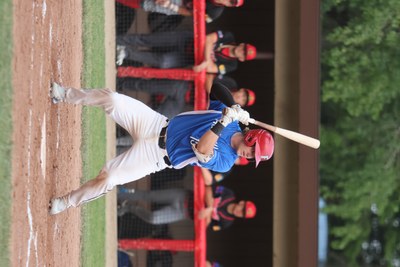 June 5th, 2023
The Albany Dutchmen (3-2) remain undefeated at home this season defeating the Glens Falls Dragons (1-2) 13-2 after seven innings with Mercy Rule taking place after the top of the seventh inning. Grant Smeltzer (Fairfield) picked up his first win in his season debut.
After two quick outs in the top of the first the Dragons manufactured a rally on a single by Jack Griffin (The College of Saint Rose) to score Odilio Cespedes (Bryant and Stratton) and put the Dragons up 1-0 early. They would not score again until an Aidan Heffner (Siena) sacrifice fly in the 5th inning.
After going down early, the Dutchmen came back in the bottom of the first and scored six runs on only two hits. Dragons' starter Joey Lauer (Siena) lasted only six batters, recording zero outs. He had two walks and hit three batters and was charged for six runs, but only three earned. The Dutchmen's first hit of the game would come from a Mike Talavera (HVCC), two-run double in the first inning.
The Dutchmen struck once again in the second inning when Donavan Canterberry (Xavier University) hit a solo home run to make the score 7-1 Dutchmen. This was Canteberry's first home run of the season. In the third inning, Steven Nitch (Barry University) hit a double that scored a total of three runs as Nick Plue (Manhattan) and Nitch would score following a couple of errors by the Dragons' defense.
The Dutchmen pitching was excellent throughout the night. Aidan Nugent (Kankakee CC) pitched three innings in his Dutchmen debut, settling in after the first inning. In his final two innings, Nugent did not allow a hit. Smeltzer replaced Nugent, pitching two innings only giving up one hit and one run. Ryan Bates (Siena) closed the game out for the Dutchmen, picking off Corey Listing (Coker University) to get out of a jam in the fifth inning.
The Dutchmen will be off on Tuesday before playing a rematch against Glens Falls on Wednesday at Dutchmen Field at Keenholts Park at 6:35PM. The game will be broadcasted live on the Albany Dutchmen Facebook account.