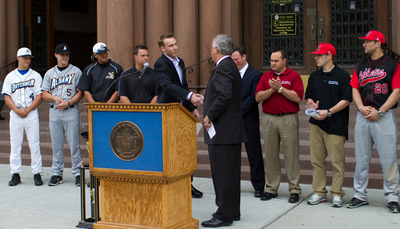 The Dutchmen's own General Manager and Vice President, Jason Brinkman, has continued his rise within the Perfect Game Collegiate Baseball League after recently being named the league's Vice President. It's an immense honor for Mr. Brinkman and a true show after faith by the league's owners, voting him in unanimously at the last board meeting.
The new role continues an upward ascension for Brinkman that began during the Dutchmen's first season, when he served as the Assistant General Manager. Since then, Brinkman has not only become the team's General Manager, but also its Vice President. Besides running the day-to-day operations of the team, overseeing corporate sales, community relations, and managing the Dutchmen interns, Brinkman had sat on the league's Baseball Operations Committee for the last two years.
The Dutchmen GM has been involved in baseball operations since his time at the University of Michigan. He helped boost revenue and attendance for the women's basketball program with a comprehensive report and worked in player relations for the schools baseball program; assisting with two of the program's stars, who are now on Major League Baseball rosters.
Brinkman's new position will allow him to be in every discussion regarding league operations and also put him next in line for league President duties. However, thankfully for the Dutchmen organization, he will continue in his capacity with the team: running the day-to-day operations and coming up with the creative in-game promotions that have become popular at Albany home games.