Less than twenty-four hours after the 2013 Albany Dutchmen arrived in town, they were staring down their first challenge of the summer. Lined up side-by-side, twenty-seven members of the Dutchmen team and front office faced the daunting J&A Prep Kitchen Burger Challenge in which the players, coaches and staff were going to eat a combined 90 burger patties, totaling 135 pounds, which amounted to about a pound and a half per person. The event, which took place outside J&A Prep Kitchen at the Crossgates Mall was organized in order to raise money for the local Big Brothers Big Sisters Program.
However, the competition wasn't the only reason the team was in attendance. Teaming up with J&A Prep Kitchen, the Dutchmen players tried to drum up support for the local Big Brothers Big Sisters program. Players informed shoppers about the local youth organization and autographed balls and bats, which will be given to some of the younger participants in the program.
After an hour of fundraising, the competition was set to start. Removing their gray road uniforms, the Dutchmen players sat next to each other in front of a growing crowd of intrigued spectators and watched as the JA employees put a pile of burgers so high that they almost toppled over in front of each one of them. After explaining the rules (the team would also have to consume a side portion of fries, all within a half hour span), and brief introductions, the team dug in.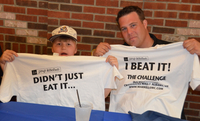 As the spectators at the mall began to cheer on players in excitement, it was easy to tell who the competitors were within the first minutes. Despite the cheering for fan favorite Palmer Steward, the "host brother" of players Andrew Bannon and Nick Morton, the competition was clearly between Elon outfielder Danny Crowe (pictured, center, in cover photo) and Assistant Coach Sean Burroughs. With less than ten minutes gone by, Coach Burroughs was down to a few fries, while Danny only had only the bottom bun of his hamburger still remaining. With the crowd urging them into what proved to be a photo finish, Danny Crowe was awarded the victory and a $50 cash prize, which he subsequently donated to the Big Brothers Big Sisters program.
Stomachs full and smiles on their faces, the Dutchmen slowly slide out from behind their table. White shirts draped over the shoulders of those who finished the challenge, the team began looking ahead to the other challenges that await. With opening day fast approaching this Wednesday night, the team looks to satisfy an even bigger appetite and beat the challenges that face them on the PGCBL schedule.