By: Dutchmen Front Office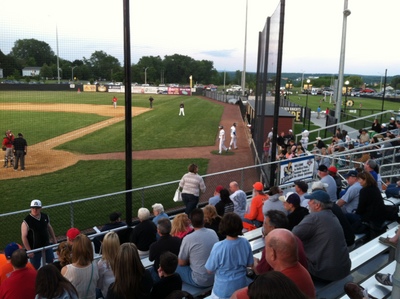 Due to a localized power outage, the season opener of the 2013 PGCBL season between the Albany Dutchmen and Amsterdam Mohawks was suspended in the bottom of the 8th inning, with the score tied at 5.

The game was scoreless through the first three innings, with Dutchmen right-hander Sean Spicer (Baylor) striking out two and giving up just one hit. But in the fourth, the Mohawks scored first on an errant throw by centerfielder Jonathan Torres (Cypress CC).

The Mohawks built on their lead in the top of the 5th, going up 2-0. Albany cut the lead in half in the bottom of the inning on an RBI single by Brad Noland (North Alabama).

Amsterdam struck back with two in the 6th, but the Dutchmen scored three in the home half of the inning to tie the game 4-4. The inning was highlighted by a Nate Rupiper (Memphis) RBI single. Rupiper led the Dutchmen with two hits and two runs scored.

Each team added another run in the 7th, but Albany reliever Chad Moss (Davidson) shut down Amsterdam in order in the top of the 8th. Rupiper was the first batter in the bottom of the inning, but with a 2-0 count, the lights went out and the game was suspended.

Per PGCBL bylaws, the game will resume the next time Amsterdam visits Albany on June 20.

The Dutchmen travel to face Mohawk Valley on Thursday night before coming home for a game with the Utica Brewers on Friday. Bryan Carr (Davidson) will be on the hill tomorrow night for the Dutchmen.
|
Back to index...