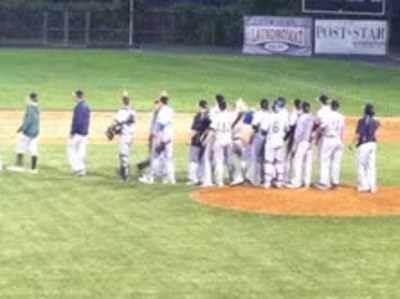 By: Dan King, Glens Falls Golden Eagles
Glens Falls, NY- The Albany Dutchmen (4-0) entered Friday night as the only team in the PGCBL without a loss, and after a hard fought 5-2 win over Glens Falls (2-3), they remain undefeated and atop the league.
Errors were the Achilles' Heel of the Golden Eagles, right from inning number one. Albany scored during a first inning that was prolonged by an error at first. The Golden Eagles tied the game in the second after Buddy Putnam (South Florida) doubled and scored, but when Albany regained the lead, they never looked back.
"Errors always hurt" said Coach John Mayotte, "I thought that was the most fundamentally unsound game we've played yet, between base running blunders and errors."
Albany received a stellar start on the mound from Sean Spicer (Baylor), who dealt six innings, allowing only one run on five hits.
Leadoff man Anthony Marks (Coastal Carolina) was the catalyst for the Albany offense, going two for four and scoring two runs as well.
Despite the struggles offensively for the Golden Eagles, Buddy Putnam hit yet another double, keeping himself in first place for the league in that category.
Albany is back at home on Saturday to take on the Watertown Rams at 7:05PM. The game will feature a Father's Day Celebration and Yankee Trails Baseball Bingo. Fans will have the chance to win a trip from Yankee Trails and other great prizes!