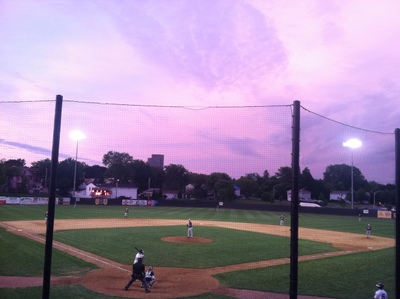 ALBANY SUFFERS FIRST LOSS OF SEASON TO ELMIRA
Albany, N.Y. – The Elmira Pioneers (5-3) handed the Albany Dutchmen (5-1) their first loss of the season on Tuesday night with a 4-1 victory at Bob Bellizzi Field.
Elmira was led by pitcher Danny Britt, (Trinity Christian) who pitched 7 innings, and gave up just one run on five hits, and struck out five to earn his first win of the season. The Dutchmen got a solid start on the mound from Matt Gallup (Hudson Valley C.C.), but were hindered by three errors in the field that led to three unearned runs.
It was a pitcher's duel through the first 5 innings, as neither team scored and Albany managed just one hit off of Britt. But Elmira cracked through in the top of the 6th, scoring 3 runs off of Gallup. Colby Gee (Ithaca) smacked an RBI double to left field, scoring Frankie Navarrete (Samford), which was followed by a Chris Knott (East Stroudsberg) single to right that put Gee on third. After Knott stole his second base of the season, runners were left on second and third for catcher Dave Hoffman (Siena). Hoffman grounded to Matt Dacey (Richmond) at first, but a throwing error to the pitcher covering first base allowed two unearned runs to score.
Jonathan Torres (UNLV) and Brad Noland (North Alabama) led off the bottom of the sixth with a pair of singles, but the Dutchmen stranded both and were unable to crack the scoring column. In the bottom of the 7th the Dutchmen finally got on the board after Chris Suseck (Coastal Carolina) pinch hit and later scored on a Torres base hit.
But that was as close as the Dutchmen would get. After Brandon Diorio (Ithaca) came on in relief of Britt in the 8th and set the Dutchmen down 1-2-3, Chris Gould (Saint Rose) closed it out in the 9th for the Pioneers. Albany had a chance when lead off pinch-hitter Anthony Marks (Coastal Carolina) bunted for a single in the bottom of the 9th. But on a 3-2 count to Danny Crowe (Elon) with Marks running, Crowe struck out looking and Hoffman threw out Marks trying to steal second, ending the Dutchmen's hopes of a comeback.
Albany starting pitcher Matt Gallup went 6 innings and gave up three runs, one earned, while allowing five hits and striking out five. Jonathan Torres went 2-3 with an RBI, and Elmira's Chris Knott was a perfect 3-3 on the night with a run scored.
Albany returns to action on Wednesday night when they travel to Cooperstown, before returning home to Bob Bellizzi Field for back-to-back home games. The Dutchmen will host Amsterdam on Thursday starting at 6PM in order to finish the Opening Night game that was suspended in the 8th inning. Thursday is "All You Can Eat" night at Bellizzi Field.
Albany will also be home on Friday night when the Mohawk Valley DiamondDawgs come to town. Friday is CDTA Kids get in Free Night, and first pitch is at 7:05PM.