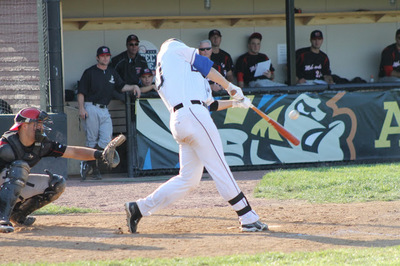 Albany, N.Y. – The Albany Dutchmen (9-1) came back to beat the Mohawk Valley (7-7) DiamondDawgs 4-3 after scoring three runs in the 8th inning, aided by Matt Dacey's (Richmond) pinch hit 2-run single.
The Dutchmen improved to 9-1 on the season, keeping them atop the Perfect Game Collegiate Baseball League and improving on the best start in franchise history.
Albany struck first with a two-out RBI base hit from Zach Remillard (Coastal Carolina) that plated Brad Noland (North Alabama) in the first, but were held scoreless until their last at-bats in the 8th inning.
Mohawk Valley responded in the second when Landon Thibodeaux (Delta St.) cracked his first home run of the season off Dutchmen starter Sean Spicer (Baylor), a two-run homer to left field that gave Mohawk Valley a 2-1 lead. The DiamondDawgs added to their lead in the 3rd when a pitch got past catcher Luke Nethaway (St. Rose) allowing Mike Fischer (Columbia) to score.
The middle innings did not produce any runs due to some quality pitching from DiamondDawgs' starter Jared Dye (Louisiana Monroe), and the Dutchmen bullpen. Dye gave Mohawk Valley a quality start, giving up just one run on five hits in 6 and two-thirds. Spicer was relieved by Andrew Bannon (Skidmore) in the 5th, who went on to retire six straight batters before being replaced by Jose Hernandez (Dean) in the 7th.
But after a pair of singles to open the bottom of the 8th inning by Noland and Chris Suseck (Coastal Carolina), a Remillard walk and a Jack Wietlispach (Niagara) RBI groundout allowed Dacey to pinch-hit for Nethaway with the bases loaded and one out. Dacey hit Tyler Bray's (Louisiana Monroe) pitch right back up the middle for a two-RBI base hit, giving the Dutchmen the lead for good.
Ben Seabrook (North Alabama) came in to close out the 9th, setting the DiamondDawgs down in order for his fourth save of the season.
For the DiamondDawgs, Dalton Herrington stole three bases making his total 17 for the season (1st in the PGCBL), and catcher Mike Fischer three out three Dutchmen base runners attempting to steal.
Albany's Brad Noland was 3-4 with two runs scored, and Jose Hernandez picked up his first win of the season on the hill.
The Dutchmen travel to Glens Falls for a game Saturday night before returning home to face Glens Falls again in a double-header on Sunday starting at 5:05PM. Sunday is "Family Funday" at Bob Bellizzi Field, with four tickets and four food vouchers being sold for just $14.