By: Dutchmen Front Office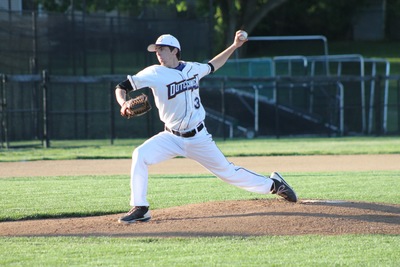 A 2-run lead proved to be insurmountable as the Albany Dutchmen (9-2) fell to the Glens Falls Golden Eagles (9-5) by a final score of 2-1 at East Field in Glens Falls.

Early on, it was a pitcher's duel between Albany starter Bryan Carr (Saint Rose) and Glens Falls starting pitcher Zack Hopf (Saint Peter's). Both pitchers were sharp through the first two innings, but the Golden Eagles would take the lead in the bottom of the third. Catcher Jimmy Smith (Saint Peter's) led off the frame with a solo home run over the center field fence, and Glens Falls would tack on another run in the fourth on a sacrifice fly by third baseman Braxton Martinez (Saint Louis).

The Dutchmen got a run back in the top of the 7th, as left fielder Brad Noland (North Alabama) led off the inning with a single. After advancing to second on a ground out by first baseman Matt Dacey (Richmond), Noland would score on an RBI single by third baseman Chris Suseck (Coastal Carolina). Suseck, though, would be thrown out trying to score on a long double by catcher Nate Rupiper (Memphis) to end the frame and Albany's scoring threat. Albany got the lead-off man on in both the 8th and 9th innings, but could not manage to scratch across the tying run in either frame.

Hopf picked up the win for the Golden Eagles, throwing eight innings of one-run ball while striking out five Dutchmen batters. Meanwhile, Carr was saddled with the loss for the Dutchmen; The Saint Rose product went seven innings, allowing two runs on seven hits with four strikeouts. Carr also picked off two Glens Falls baserunners.

Chris Suseck (Coastal Carolina) and Brad Noland (North Alabama) each had two hits to lead the Dutchmen, who were held to just seven total hits on the evening. Suseck took a called third strike in the top of the ninth to end the game.

Your Albany Dutchmen return home tomorrow for a doubleheader against the Golden Eagles of Glens Falls. The first of two seven-inning games will begin at 5:05 P.M., with the second game to start thirty minutes after the completion of game one. It's also Family Funday, which means that four tickets and four hot dogs are just $14! Also, a special grill menu will be provided in between the two games by our friends at Capital Q Smokehouse!
|
Back to index...