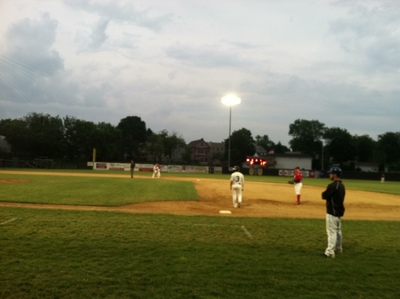 Albany, NY – The Albany Dutchmen (10-5) fell 8-7 in 10 innings Thursday night to the Adirondack Trail Blazers (7-9). Albany is now 1-4 in its last five games.
Andrew Bannon (Skidmore) was handed the loss for the Dutchmen, despite a strong outing, striking out five batters in two and a third innings of work. Austin Bartley (Shippensburg) got the win for the Trail Blazers.
The Dutchmen jumped out to 5-1 lead through the first three innings thanks to multiple errors in the field by Adirondack. All in all, the Trail Blazers committed 5 errors on the night. Zach Remillard (Coastal Carolina) scored twice in the first three to highlight a solid start for Albany.
Adirondack started to crawl back in the 4th inning, as the Trail Blazers plated three runs, highlighted by an RBI single by Mike Parsons (Rider). Adirondack's outburst made it a one run game, but the Dutchmen responded in the home half of the 5th when Anthony Marks (Coastal Carolina) scored his second run of the game following a throwing error from Parsons.
With a 6-4 lead headed into the 7th, Adirondack would once again rally. Chris DiVarco (Northern Illinois) drove in two runs with a single and tied it right back up. However, Brad Noland (N. Alabama) responded with an RBI single of his own to give Albany a 7-6 lead.
Bannon came on to shut the door for the Dutchmen in the 8th, but after striking out the first two batters he faced, Luke Emling (Villanova) blasted his 4th HR of the season and tied the game up at 7. Albany couldn't responded in the home half or the 9th, so the two teams headed to extras at "the Bob."
With Bannon still on the hill, Emling once again came up to bat for the Trail Blazers in the 10th. With two on and one out, Emling hit the go-ahead RBI single and gave Adirondack an 8-7 lead. Ben Seabrook (N. Alabama) stopped the bleeding for the Dutchmen and Albany got out of the inning without any further damage.
In the bottom of the 10th, Chris Bianchi (Trinity) drew a two-out walk, but Tyler Orris (Millersville) flew out to right to end the game. It's the Dutchmen's 4th loss in the last 5 games. Adirondack improves to 7-9.
Albany goes on the road for three straight games this weekend before returning home Monday, July 1st, to take on the Glens Falls Golden Eagles (11-8). And remember, Monday is always "Kids Eat Free" night at Bob Bellizzi Field. First pitch is set for 7:05.