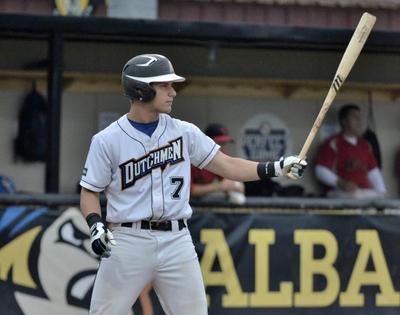 In a battle of the two division leaders in the PGCBL, the Albany Dutchmen (11-5) defeated the Newark Pilots (8-10) 6-2 at Colburn Park.
The win snaps a two-game losing streak for the Dutchmen, and they improve their road record to an impressive 5-1.
Albany struck in the top of the 1st inning. Zach Remillard (Coastal Carolina) doubled, and Joe Purritano (Dartmouth) sent him home with a RBI single.
The Dutchmen added to their lead in the top of the 4th. Tyler Orris (Millersville College) scored on a wild pitch and Chris Suseck (Coastal Carolina) picked up a RBI single to give Albany a 3-0 advantage.
Brian Ruhm (UC Davis) showed his power with a solo home run in the top of the 6th to add a run to the Dutchmen lead.
Newark scored their first run in the bottom of the 7th inning. Taylor Hinshaw (Georgia College) led the inning off with a double and advanced to third on a wild pitch. Teammate Scott Matthews (Washington Md.) grounded out, but it was good enough to score Hinshaw and make it a 4-1 game.
Anthony Marks (Coastal Carolina) put the Dutchmen back up by four runs with a RBI single in the top of the 8th, scoring Tyler Orris.
Jacob Russell (Kentucky) tallied another run for Newark with a RBI single in the home half of the 8th inning, but the Dutchmen got the run back in the top of the 9th after a sacrifce fly by Purritano (Dartmouth).
Sean Spicer (Baylor University) picked up the win for Albany. He is now 2-0 after throwing five innings, allowing no runs on four hits with four strikeouts.
Justin D'Amato (St. John Fisher) is slapped with the loss for the Pilots.
The Dutchmen are on the road Saturday night at the Glens Falls Golden Eagles at 7:05PM. The team returns home to Bellizzi Field on Monday night. First pitch is scheduled for 7:05PM, and it is Kids Eat Free Night!