By: Dutchmen Front Office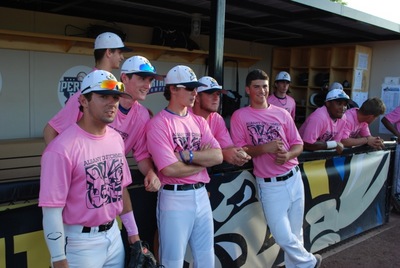 Albany, N.Y. – The Albany Dutchmen (12-9) made a late-inning rally, scoring four runs in the 7th inning, but couldn't overcome a five-run deficit and fell to the Adirondack Trail Blazers (9-16) 6-4.

Saturday night was the 3rd Annual PINK Game held by the Albany Dutchmen, featuring pink jerseys worn by the players that were auctioned off postgame, and a huge raffle that raised money for the American Cancer Society and Susan G. Komen for the Cure.

Adirondack delivered runs in the first two innings, courtesy of a sacrifice fly RBI from Alex Mata (Saint Leo) and an RBI single from Alex Simone (West Alabama). But despite the early runs, Albany starter Jimmy Davitt (Bryant) struck out seven in five innings of work.

Davitt was pulled after Brandon Jossey (Seton Hill) added another run in the 5th in favor of Matt Gallup (Albany). Gallup pitched two innings in relief of Davitt, and allowed just one unearned run.

On the mound for the Trail Blazers, Brendan Butler (Farleigh Dickinson) had not given up a run and had struck out six through six innings. Butler had given up just four hits as well, and the Dutchmen didn't have more than one runner reach safely in any inning.

But entering the bottom of the 7th and trailing 5-0, the Dutchmen made a rally to get them back in the game. A single by Chris Suseck (Coastal Carolina) was followed by a double from Jack Wietlispach (Niagara) to lead off the inning. Chris Bianchi (Trinity) followed the two leadoff hits with a double of his own, scoring Suseck and Wietlispach and making the score 5-2. Anthony Marks (Coastal Carolina) then singled in Bianchi, and Marks later scored on an error by Adirondack with two outs, leaving the Trail Blazers with just a 5-4 lead after seven innings.

The Dutchmen could not push any more runs across in the final two innings, however, and Adirondack won the game 6-4 after adding an insurance run in the 9th. It is the eighth loss in eleven contests for Albany, while Adirondack won its second game in as many nights after losing seven straight.

Brendan Butler (1-3) earned his first win of the season, while Jimmy Davitt (1-1) picked up his first loss. Chris Rheaume (Ave Maria) got his first save of the season.

Albany returns to action tomorrow night when it travels to Glens Falls to face the Golden Eagles (17-9). After an off day on Monday and a game on the road at Utica (9-12) on Tuesday, Albany returns to Bob Bellizzi field on Wednesday, July 10th against Amsterdam (13-13). July 10th is Winning Wednesday in Albany, which grants a free ticket to all those in attendance to the next home game with a Dutchmen win! First pitch on Wednesday is 7:05 PM.
|
Back to index...