By: Dutchmen Front Office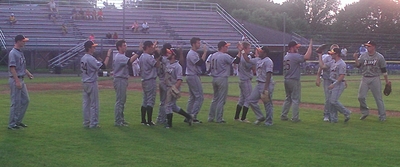 The Albany Dutchmen (13-9) defeated the Utica Brewers (9-13) 4-1 in Game One of a double header at Murnane Field at Donovan Stadium.

The Dutchmen got on the board in the 2nd inning with a Chris Bianchi (Trinity) RBI single. Albany added two more runs in the 3rd. Bradley Noland (Univ of North Alabama) picked up a RBI base hit and later came around to score after a wild pitch.

The teams traded runs in the 4th inning.

Sean Spicer (Baylor) was brilliant on the mound for Albany. He not only went the distance in the seven inning game, but he also scattered just three hits and struck out seven Utica batters. He improves his record to 3-0 on the season.

In Game Two, Chris Suseck's RBI single in the top of the 7th lifted the Albany Dutchmen (14-9) to a 9-7 victory over the Utica Brewers (9-14).

Derrick Armstrong (Miss St.) started the 7th inning off with a single and advanced to second on a sacrifice bunt by Jack Wietlispach (Niagara). Suseck (Coastal Carolina) was next up and laced a single to left field scoring Armstrong from third base. Albany would tack on another run off a Tyler Orris RBI single later in the inning.

Thomas Belcher (Indiana) picked up the win for Albany. He pitched 2 scoreless innings after coming in and allowing two inherited runners to cross home in the bottom of the fifth. Matt Gallup (UAlbany) started the game for the Dutchmen; he allowed four runs in the first inning but settled down and cruised until the fifth when he was relieved by Joe Portukalian (Rhode Island). Portukalian would allow a run to cross the plate, and Belcher allowed two more before silencing Utica's bats.

Utica led 4-0 after one, but Albany would score the next seven runs through five innings. Utica answered with three runs in the bottom of the fifth to tie it at 7. Neither team would score until Albany's 2-run 7th inning.

The Dutchmen return home tomorrow night to take on PGCBL East Division foe Amsterdam at 7:05. It's Winning Wednesday, which means should Albany defeat the Mohawks, every fan in attendance gets a free ticket to Friday's home game!
|
Back to index...