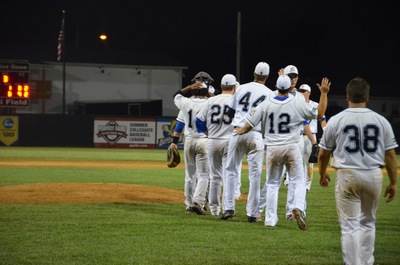 Albany, N.Y. – The Albany Dutchmen (18-10) won their 6th straight game and move back into 1st place in the PGCBL with a 3-1 win over the Watertown Rams (18-15) on Heroes Night at Bob Bellizzi Field.
The win on Saturday night was highlighted by a spectacular performance on the mound from Dylan Collett (Keene State), who went 8 innings and picked up his first win of the season.
The majority of the game's scoring came in the 2nd inning for both teams. In the top half of the 2nd Watertown's Bobby Indeglia (Holy Cross) brought home Brad Rush (St. John Fisher) to give the Rams a 1-0 lead. But the Dutchmen responded with two runs of their own in the bottom half of the inning. After Matt Dacey (Richmond) reached on an error, and Coastal Carolina teammates Zach Remillard and Chris Suseck reached on bunt singles, Chris Bianchi (Trinity) delivered a two-run single to left field, giving Albany a 2-1 lead.
No further scoring would take place until the 8th inning for either team, as starting pitchers Dylan Collett and Joe Adel (South Florida) traded scoreless frames through the middle innings. Adel struck out two Dutchmen hitters in both the 3rd and 7th innings, and overall had seven strikeouts in 7 and two-thirds innings, giving up three runs on nine hits. Collett scattered six strikeouts over 8 innings of work, and gave up just one run on three hits.
The Dutchmen added an insurance run in the 8th, when Remillard drove in Tyler Orris (Millersville) on a sacrifice fly, giving Albany a 3-1 lead that it would not relinquish.
Thomas Belcher came in for the save in the 9th inning. But after Jacob Boylan (Kansas) reached on an error to lead off the 9th, he was called out after he left first base and started to head back to the dugout. Due to a rule called "abandonment," a base runner is out when he leaves the baseline and abandons his effort to touch the next base. Belcher retired the next two batters in order, picking up his third save of the season and giving Albany a 3-1 win.
The Dutchmen, who are now in first place in the PGCBL East Division, will travel to Mohawk Valley for a doubleheader with the DiamondDawgs (14-13) on Sunday, before returning home on Tuesday night to face Elmira (14-14). Tuesday is 2 for 2uesday night at Bob Bellizzi Field, and it is also Twitter Tuesday, so be sure to follow the Dutchmen on Twitter at @DutchmenPGCBL.