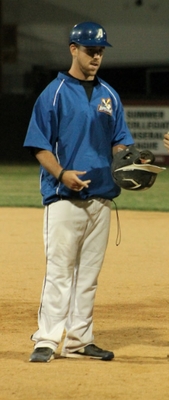 The Albany Dutchmen are happy to report that Sean Buchanan will be back for the 2014 season as the team's Hitting Coach. Buchanan is currently the Head Assistant and Recruiting Coordinator at Dutchess Community College. He previously served on the coaching staffs at Arlington High School, SUNY New Paltz, and the Cooperstown Hawkeyes.
Head Coach Nick Davey was enthusiastic about Buchanan's return. "I'm very happy to announce that Sean Buchanan is coming back to be a part of our 2014 Dutchmen staff for a second year," said Davey. "Sean is a very hard working, eager young coach who has 2 years of experience coaching now in the PGCBL. Sean understands the process of summer baseball very well and is on board with not only mine but our organizational philosophy of developing our players everyday to not only be better baseball players but young men as well. Sean was an important piece for me to bring back to make another run at a PGCBL championship."

Buchanan was equally as enthusiastic about coaching for the Dutchmen again. "I am incredibly excited to be returning this year, especially after what we were able to accomplish in 2013," Buchanan said. "Last summer was one of the greatest summers of baseball I've ever been a part of and I can't wait to build off of that in 2014."

During the 2013 season, Buchanan helped lead the Dutchmen to multiple national rankings and an appearance in the PGCBL East Division Finals for the first time in program history. Coach Buchanan was pleased with the improvement of the team's hitting throughout the summer.

"Spending that extra time in the cage and on the field was key for our guys to make positive adjustments as the summer went on," he stated.
Buchanan worked countless hours in the batting cage with Dutchmen players in 2013, improving not only the fundamentals of hitting, but also the mental approach that comes with it.

"The biggest thing that I preach from at-bat to at-bat is a quality mental approach. A player can have all the physical ability in the world, but if he lacks the proper mentality then he won't be very successful at the plate," he proclaimed.

When asked what he enjoys most about coaching in the Perfect Game Collegiate Baseball League, he responded, "working with some of the best young college players day in and day out."

Welcome back Coach Buchanan!