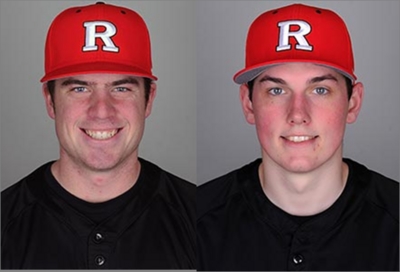 Ever since the Dutchmen franchise began six summers ago, the organization has had a great relationship with Rutgers baseball. The local Northeast program has continually sent high quality players to Albany, who wind up producing among the league's best. The Dutchmen believe that 2014 will be more of the same thanks to talented pitchers Howie Brey and Jon Young.
A sophomore left-hander from Middletown, New Jersey, the 5'10" 190 pound Brey contributed for the Scarlet Knights immediately. After finishing his career in Middletown by being named the Monmouth County pitcher of the year and being awarded both First Team All-Conference and All-Shore in his final season, Brey secured a role in the Rutgers bullpen. He was tied for the team lead with 24 appearances as a freshman, notching a 3.44 ERA and one save in the process. However, Brey wasn't just successful in his first season; there were times where he was downright dominant. He struck out 26 batters in 34 innings, stranded 68 percent of inherited runners, and allowed a .200 batting average against Big East opponents over his final nine appearances of the season.
Despite the success out of the pen, Brey recently made the move to the starting rotation, where he has been just as successful. In two starts so far this season, Brey has a 1-0 record, striking out nine batters in eleven innings, while allowing only four hits and compiling an ERA of 1.64. It's results like this that have the Dutchmen so excited about what he can bring for the 2014 campaign.
However, Brey is not the only impressive New Jersey native that Rutgers will be sending to Albany. Joining him will be 6'3" 200 pound right-handed junior, Jon Young. A First Team All-County and First Team New Jersey Group Four recipient as a senior in high school, Young represented Central Jersey in the State All Star Game before committing to Rutgers. He appeared in three games as a true freshman before locking down a feature role in the bullpen as a sophomore. There, he made thirteen appearances for the Scarlet Knights, throwing 29.2 innings and striking out 22 batters while finishing off the year with a 2-1 record.
A physically intimidating presence on the mound, Young has also made the occasional start for Rutgers, including one game so far this season. However, he's also remained an asset out of the bullpen, combining with Dutchmen teammate Brey to shut down the Jacksonville offense in a recent win. So far, Young has tossed six innings across two games for the Scarlet Knights, proving just how versatile and dependable he can be on the mound; two things the Dutchmen value just as highly.