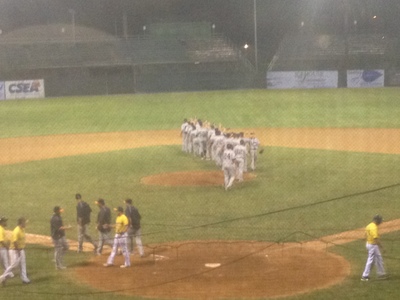 The Albany Dutchmen churned out ten hits, and every Albany player that came to the plate reached at least once in a 6-2 victory against the Glens Falls Golden Eagles on Monday night at East Field in Glens Falls.
The Dutchmen surrendered the first run of the game, as they have in each of their three wins away from the Capital City. Brian Fay (Siena) drove in Garrett Bernardo (Anderson) on a single to give Glens Falls a 1-0 lead in the second.
The game was evened in the top of the third inning. Dave Vaccaro (Radford) led off the inning with a double. After a walk and a pair of flyouts, Cameron Miller (Baylor) singled to right to tie the game.
The Dutchmen took the lead for good in the next inning, beginning when James Locklear reached on an error. Reid Matthews would draw a walk, putting runners on the corners. Demetrius Webb (Indiana) drove in his first Dutchmen run on a groundout, and Albany took a 3-1 lead on an RBI single from Vaccaro.
Vaccaro's big day continued in the bottom of the sixth inning. With two outs in the inning, Vaccaro singled to bring in Nick Jewett (Trinity University) and Webb. Vaccaro, whose two-run single gave Albany a 5-1 lead, ended the game 3-for-4 with three runs batted in and another run scored.
The lead was trimmed to 5-2 in the bottom of the sixth on an RBI single from Brennan Price (Felician).
The final run of the game was scored in the top of the seventh, when Jewett drilled a two-out single to bring in Danny Hrbek (Radford).
Spencer Hotaling (Susquehanna) earned his second win of the season with six strong innings on the mound. Hotaling allowed two runs on six hits with three strikeouts.
Dylan McGee (Trinity University) and Josh Ferry (Illinois) combined to pitch a scoreless final three innings. McGee only allowed one hit, and Ferry retired all three Glens Falls hitters he faced. The loss was charged to Golden Eagles righthander John Leiter (Saint Peters), the nephew of former MLB All-Star Al Leiter.
The Dutchmen finish their two game roadtrip on Tuesday, battling the Utica Brewers. Albany returns home on Wednesday for a doubleheader with the Watertown Rams. The first game is scheduled to begin at 5:05, with the second game beginning roughly 30 minutes after the conclusion of the opener.
Wednesday is High School Student Athlete Recognition Night, sponsored by New York State Public High School Athletic Association. High school student athletes from across the area will be recognized. The Dutchmen will also run Twitter and Facebook promotions as part of Web Wednesday. Concession specials including Capital Q pulled pork sandwiches (includes coleslaw & corn bread) and Philly cheese steak dinners (includes potato salad & chips) will be available all night.