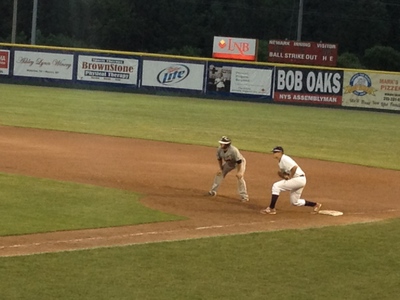 The Albany Dutchmen saw their losing streak extend to four games after a 9-2 loss to the Newark Pilots Friday night at Colburn Park in Newark. The loss dropped the Dutchmen to 8-5, and Newark improved to 10-4.
The Dutchmen found themselves in a 1-0 hole in the bottom of the first inning, after an RBI single from Wyatt Padgett (BYU) opened the scoring.
Newark stuck three runs on the board in the bottom of the second, as well. After the first two hitters of the inning hit safely, Jack Gerstenmaier (Virginia) doubled to left center field, scoring both runs and giving the Pilots a 3-0 lead. The Newark lead became four runs on a fielders choice off the bat of Conrad Ziemendorf (SUNY Cortland).
The Dutchmen were unable to cut into the Newark lead despite leaving runners on base in multiple innings. The Pilot defense was able to turn five double plays, including four to end the inning.
The 4-0 lead stuck until the fifth inning, when Tanner Giesel (Southeastern CC) scored on a sacrifice fly to make it a 5-0 lead.
Newark put the game out of reach in the sixth inning, plating four runs to take a 9-0 lead. The four runs scored on just one hit, as the Pilots drew three walks and were hit by two pitches. Ben Lee (Lipscomb) came on to make his Dutchmen debut on the mound, and recorded the final two outs of the inning.
Albany also received a solid relief appearance from Danny Hrbek (Radford), who tossed a scoreless eighth inning in his first pitching appearance.
The Dutchmen were able to avoid a shutout in the top of the ninth inning, scoring two runs. Cameron Miller (Baylor) doubled with one out in the inning, his second double of the game. Ernie Clement (Virginia) made his Dutchmen debut with an RBI double. He scored on an RBI single from James Locklear (Rider), his third hit of the ballgame.
The win for Newark went to Robert Robbins (Stevens), who tossed seven scoreless innings. Jose Hernandez (Dean College) was charged with the loss for the Dutchmen.
After a Saturday game with Glens Falls, the Dutchmen return home on Sunday for a 5:05 first pitch with the Mohawk Valley Diamond Dawgs. It is Team Poster Giveaway Night for the first 250 fans in attendance, and the Dutchmen players will be available for autographs after the game. It is also Sunday Funday, where 14 dollars will get fans four tickets and four food vouchers.