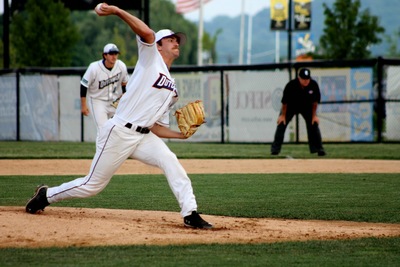 The Albany Dutchmen came up with their biggest victory of the season, a 4-1 victory over the Glens Falls Golden Eagles to pull a game ahead in the race for the final playoff spot. The Dutchmen were powered by a masterpiece from Drew Tolson (Baylor), who tossed a complete game for Albany.
The Dutchmen found themselves in a 1-0 hole in the second inning. Rich Gugliemi (Saginaw Valley State) singled with one out in the inning, and moved to third on a two-out single from Kaleb Holbrook (South Georgia). Gugliemi then scored on a Danny Oliveri (Triton) single to give a one-run lead to the Golden Eagles.
Albany answered the bell in the bottom of the third, scoring a run to tie the game. Ernie Clement (Virginia) singled after the first hitter of the inning flew out. Clement proceeded to steal second, and moved to third on a Adam Lee (Lipscomb) flyout. Sean Aspinall continued his stellar season with an RBI single to even the game at 1.
The Dutchmen took a lead they would not relinquish in the fourth inning, plating a pair of runs. Cam Miller led off the inning by reaching first on a fielding error. A sac bunt and a single from James Locklear (Rider) put runners on first and third with one out. Justin Brock (Franklin Pierce) then drove in Miller with a sacrifice fly to right field. Danny Hrbek (Radford) drove in the inning's second run with a double, and gave Albany a 3-1 lead.
Tolson worked out of trouble in the sixth inning, forcing a flyout from Gugliemi with two outs and runners on the corners.
Another run was scored by the Dutchmen in the bottom of the seventh inning, which began with a Nick Morton (Washington and Jefferson) single, and a throwing error moved Morton to second. He advanced to third on a Clement bunt, and scored on a sacrifice fly from Lee.
The Baylor right-hander worked out of more trouble in the eighth inning, as he allowed a walk to start the frame. A high chopper to first from Mark Powell (Bucknell) was gloved by Lee, who tossed the ball to Hrbek, who fired back to first for a crucial double play.
Albany also turned a huge double play in the ninth after a pair of Glens Falls singles put the tying run at the plate. A ball was lined to Hrbek at short, who made the catch and threw back to second to double off the runner.
Tolson struck out six hitters over his nine innings, and walked just one. He earned his fourth win, while John Leiter (St. Peter's) took the complete game loss.
The Dutchmen will battle Mohawk Valley in Little Falls on Sunday, and face the Diamond Dawgs a second time in Albany on Monday. The Dutchmen Spotlight Players of the Week will be honored, as well as the usual Monday Kids Eat Free (with paid admission) promotion.