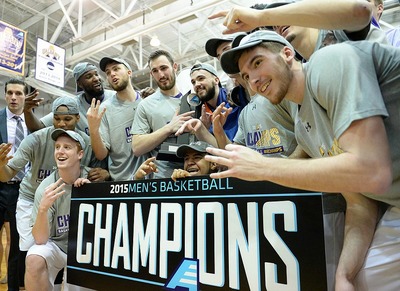 March 21st, 2015

The Albany Dutchmen organization proudly congratulates the University at Albany men's and women's basketball teams on two tremendous seasons.
The UAlbany women's basketball team earned their 4th consecutive America East title and an automatic berth into the NCAA tournament. They earned a #13 seed in the NCAA's and were matched against #4 seed Duke. Up against the immense challenge of playing at Duke's home court, Cameron Indoor Stadium, UAlbany gave Duke all they could handle but eventually fell 54-52, ending their season.
The UAlbany men also clinched consecutive America East titles, winning their conference tournament for the third year in a row. The Great Danes secured a thrilling last second win over Stonybrook in the conference finals on a three pointer by Peter Hooley with 1.6 seconds left in regulation. It was a closely contested, hard fought win that had fans on the edge of their seats. One fan in particular had a unique view of the final play. Last year's Dutchmen centerfielder Will Miller posted a video online of the final shot, which he and his Albany teammates watched on the bus before earning a victory of their own on the diamond. (*the link to the vine is pasted at the bottom of the article).
With the conference tournament championship, UAlbany men's basketball earned a #14 seed in the NCAA tournament and a matchup against #3 seed Oklahoma in Columbus, Ohio. UAlbany held tough throughout the game, but dropped the contest 69-60.
Congratulations again to both the UAlbany men's and women's basketball teams on incredible seasons!
*UAlbany baseball team reacts to the last second shot made by UAlbany basketball's Peter Hooley in America East Finals: https://instagram.com/p/0OYYaHvx3a/