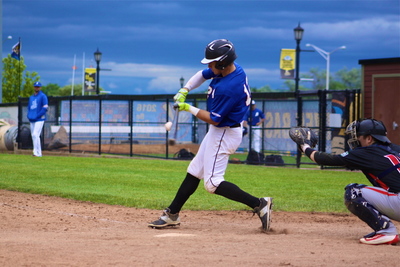 ALBANY, NY—Inclement weather forced the Albany Dutchmen (4-4) and Glens Falls Dragons (3-5) to postpone their Friday Night game at Bellizzi Field. It will be rescheduled as part of a double-header on Wednesday, June 24th.

The two teams completed the top of the 1st and the leadoff hitter in the bottom of the inning before lightning was visible around the ballpark, suspending the game. Dutchmen starter Jon Reid (Azusa Pacific) struck out the side in his frame, with a fielding error mixed in between the three Ks.

In the bottom of the inning, Grayson Lewis (Rice) singled to right field. With a 1-2 count on centerfield Sean Aspinall (Azusa Pacific), the field umpire noticed the lightning in the outskirts of the stadium and immediately paused the game.

The Dutchmen and Dragons are participating in the Subway Summer Series. The series is currently tied at one game per side.

Prior to the 1st inning, Ed Zimmerman delivered a special first pitch. The 94-year old veteran of World War II was a staple in the Albany Twilight League.

Albany will return to the diamond tomorrow night at the Saugerties Stallions (5-4). Mike Reitcheck (Penn) will get the ball for Nick Davey's squad. Glens Falls returns to East Field tomorrow to battle Mohawk Valley (3-4).

The next Dutchmen home game will be Monday against the Utica Brewers. It will be Mystery Monday at the ballpark, with all kids eating free with their paid admission.