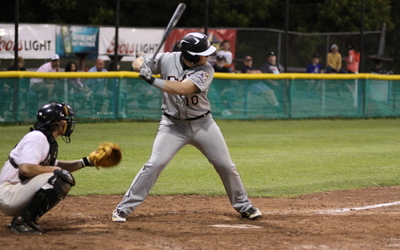 The Albany Dutchmen scored two runs in the top of the ninth inning to knock off the Mohawk Valley DiamondDawgs, 4-2, at Veteran's Memorial Park in Little Falls. The win put the Dutchmen back above .500 and into a tie for second place in the PGCBL East Division. The Dutchmen re-entered PGCBL play after Wednesday's exhibition game with the New York Penn League's Tri-City ValleyCats.
Albany put the first two runners of the ninth on via back-to-back hit by pitches to Simon Palenchar (Radford) and Tyler Nelin (George Mason). After Pat Hisle (Maryland) entered the game as a pinch-runner, two outs were recorded. Zach Remillard (Coastal Carolina) drilled a single that plated Hisle and gave Albany the lead. Mike Fitzsimmons (Ole Miss) drove in his second run of the game on a single that allowed Nelin to score. Winning pitcher Zak Spivy (Polk State College) worked a 1-2-3 inning to end the game and send the Dutchmen home winners.
The Dutchmen struck first in the game, scoring a pair of runs in the top of the opening inning. A one-out walk to Hunter Boose (Georgia Regents) was followed by a pitch that hit Remillard to put runners on first and second. A wild pitch and a groundout from Fitzsimmons plated Boose, and another wild pitch allowed Remillard to score, giving Albany a 2-0 lead.
Two infield singles in the second inning would be Albany's last hits until the eighth inning, as starter Marc Iseneker (St. John Fisher) struck out ten Dutchmen hitters.
The DiamondDawgs trimmed the Dutchmen lead to one run in the sixth inning, which began with a single from Malcolm Kelsey (St. John Fisher). After a stolen base, Kelsey crossed the plate on a two-out single from Chris Rave (Herkimer CC).
The one run would be all Albany starter Chris Amorosi (Siena) would allow, as he worked seven great innings with just four hits allowed. Amorosi earned a no-decision for his time on the mound.
Before the Albany heroics, Mohawk Valley would tie the game in the bottom of the eighth inning. Again, Kelsey would reach base to begin the inning, this time on a walk. He was sacrificed to second, and then scored to even the score on a single by Thomas Walraven (New Haven). A double play by the Dutchmen would set up the ninth inning win.
The Dutchmen and the DiamondDawgs will play the second game of a home-and-home at Bob Bellizzi Field in Albany. It will be Albany Clothing and Promotions Night at the ballpark, as the first 250 fans will receive a hard plastic Dutchmen solo cup courtesy of Albany Clothing and Promotions. The gates will open at 5:45, and fans will also be able to play Baseball Bingo for great prizes.