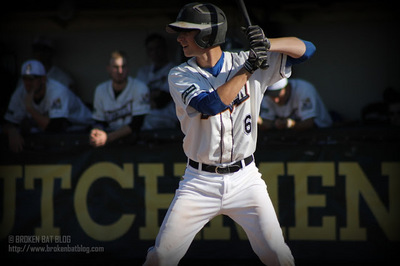 ALBANY, NY—It was a competitive contest at Bellizzi Field between the Albany Dutchmen (8-12) and Adirondack Trail Blazers (9-11), who met for the first time in 2015 Friday, but three insurance runs plated by the Trail Blazers in the later innings proved to be the difference.
Albany has now dropped their last six games, and has dipped into last place in the PGCBL East Division.
With the bases loaded against Dutchmen starter Mike Reitcheck (Penn), Adirondack scored the game's first two runs in the top of the 3rd on an infield single and a walk by Brett Connors (Siena) and Evan Alderman (Georgia SW State), respectively.
Reitcheck settled down after the 3rd inning hiccup to fire a quality start. He relinquished 3 earned runs in 7 complete innings, striking out 8 Trail Blazers on 117 pitches.
With the deficit 2-0, an Eric Mueller (UAlbany) RBI single to left field in the bottom of the 4th cut the lead in half. The 4th inning was sandwiched by two others in which Albany had a runner in scoring position with two outs. By game's end, it proved costly to only score one run with those opportunities.
The Dutchmen would also regret a pair of runners thrown out on the base paths. Brad Jones (Florida Tech) nabbed Tyler Nelin (George Mason) and pinch hitter Grayson Lewis (Rice) during the game, running the Dutchmen out of a pair of innings.
Connors drove in another run in the 5th inning on an infield hit. Adirondack sliced four infield hits in the ball game, bouncing balls off the springy Bellizzi infield grass. In the 9th inning against Zak Spivy (Polk State), who struggled with his control and walked the bases loaded, Adirondack plated two more to push their lead to four.
The first of those runs came on a bang-bang play at the plate, with Spivy's flip attempt was kicked out of Nelin's glove behind the dish, trying to force out the Trail Blazers. Spivy then gave way to Blake Allen (Baylor), who induced a ground ball that could not be turned into a double play, scoring Adirondack's 5th run.
Grayson Lewis, inserted as a pinch hitter in the 7th inning, went 2-2 off the bench. With two outs in the 9th, Lewis ripped a standup triple into the corner in right field, scoring Patrick Hisle (Maryland) from first.
Lewis was stranded at third on the game's final out, a ground out to second base.
Albany's final home game in the month of June is Saturday, with Jon Reid (Azusa Pacific) looking to end the losing skid against the Saugerties Stallions (9-12). With a 7:05 start against Saugerties, it is CDTA Kids in Free Night at Bellizzi Field. The first 250 fans in the ballpark will receive Dutchmen drawstring backpacks.