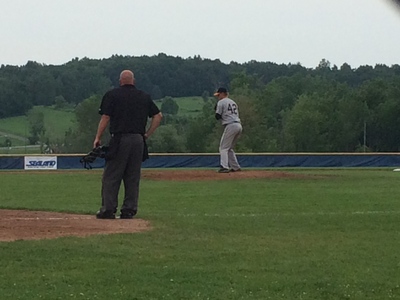 Pitching for the second time this season against Albany, Mitch Patishall (Cincinnati) went the distance for the Victor Rail Riders (15-13), winning 4-0 and sweeping the season series against the Dutchmen (11-16).

Jake Welch (Notre Dame College) got the start for Albany. He pitched well, ducking in and out of trouble throughout the contest. After retiring Victor 1-2-3 in the first, the Rail Riders scored on a passed ball in the 2nd to take the early advantage. But, Welch induced a strikeout and a fly out with the bases loaded to conclude the threat.

The pitcher's duel raged from there, with both starters firing outs through the frames that preceded the 5th.

Albany struggled offensively throughout the contest. Albany's first two hits were infield singles, one off the bat of Patrick Hisle in the top of the 4th. After a walk to Zach Remillard (Coastal Carolina), Patishall bore down to retire the following two hitters and conclude the Dutchmen threat.

A second passed ball allowed Victor to grab an insurance run in the bottom of the 5th. Evan Fernandez (Jacksonville) then led off the 6th with a solo homerun to left, pushing the advantage to 3. Welch's day was done with one retired in the inning, leaving two inherited runners at first and third for Blake Allen (Baylor).

Allen retired all eight batters he faced, allowing a lone inherited runner to score on a passed ball. Allen's outing went 2 and two-thirds innings, striking out two and not relinquishing a hit. It continues the recent surge in strong performances by the Dutchmen bullpen.

But, by game's end, the Dutchmen bats could not figure out Patishall, who went the distance, walking one and striking out 12. It is Albany's second consecutive defeat without crossing home plate.

Albany will return to Bellizzi Field Thursday for a scheduled doubleheader with the Saugerties Stallions (10-17). Game 2 is Albany's 5th annual Pink Game benefitting the American Cancer Society and Susan G. Komen for the Cure. The Dutchmen will wear pink jerseys that will be auctioned off in support of these two organizations. Additionally, Albany will host a huge raffle with awesome prizes, including 4 field box tickets to a New York Yankees matchup with the Boston Red Sox in the Bronx.