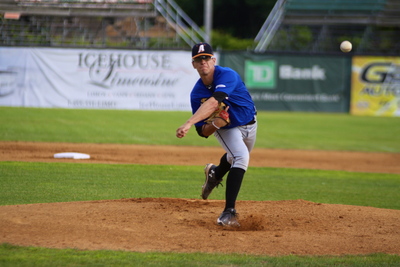 GLENS FALLS, NY—On Wednesday, the trend of the Subway Summer Series continued to fall the way of the Glens Falls Dragons (21-21), finding just enough offense to beat the Albany Dutchmen (18-24) 3-1 at East Field.
With the two teams jostling for the final postseason spot in the PGCBL East Playoff Picture, Dragons starter Jake Murray (Rhode Island College) stymied the Dutchmen bats in seven strong innings of work. Glens Falls now has a three game lead over the Dutchmen for the third and final playoff spot.
Glens Falls struck first for a pair of runs in the first two innings against Jon Reid (Azusa Pacific). A fielder's choice off the bat of Jake Vieth (Tacoma CC) in the bottom of the 1st plated Danny Oliveri (Triton), who reached to start the inning on a defensive miscue. In the 2nd, an infield single off the bat of Oliveri brought home the second Dragon run, which proved to be enough with Murray on the mound.
Alternating between his fastball and breaking ball, Murray shut down the Dutchmen offense. Up until the top of the 7th inning, Adam Gauther's (Dartmouth) pair of singles was the extent of the Albany output.
Trailing 2-0 in the bottom of the 4th, Reid fired a 0-2 fastball to Matt Kleinstein (Flelician), who turned around the offering, planting the baseball in the centerfield stands for a solo homerun. It was Kleinstein's first hit in 16 at bats for the Dragons, and pushed the lead to 3.
Defenders on both sides made their presence felt in the outcome of the game. The top of the 5th inning concluded on a sensational catch made by Dragon second basemen, Matt Flynn (Saint Anselm) who located the ball his left shoulder while diving with his back turned to the infield. Flynn's teammate Harrison Bragg (Tacoma CC) also made a diving catch down the line in right field to begin the top of the 9th.
For Albany, Grayson Lewis (Rice) provided the web gem in the bottom of the 5th. Akin to Flynn, with his back to the infield, Lewis made a basket catch. Lewis then spun and cut down Mark Powell (Bucknell) trying to tag up and score.
Albany's lone run came across the plate in the 7th on an RBI single by Dominic DiCaprio (Rice). The Dutchmen then brought the tying run to the dish in the 7th and 8th innings, but could not figure out the Dragon's pitching.
These two teams will head to Albany to play the second game of this home-and-home series on Thursday. It will be Bark in the Park Night at the ballpark, where dog owners with their pets in tow will earn free admission to the 7:05PM start. Werner Ladders will also be distributing four ladders to fans, each with varying lengths. At the concession stand, it will be all-you-can-eat for $10.