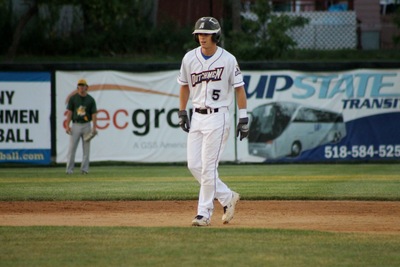 The return of college baseball is mere days away, and dozens of former Albany Dutchmen litter the rosters of teams that enter the 2016 season with hopes of a conference, regional, and national championship. In preseason polls conducted by Collegiate Baseball, ten teams with at least one former Dutchmen player enters the season ranked in the top 40 of their division. While there are former Dutchmen across the country entering the season with high hopes, the following teams are the ones that enter the season with the highest expectations.
At the Division I level, everyone is chasing defending national champions Virginia, who return All-College World Series selection and 2014 Albany star Ernie Clement. Clement is joined this season by incoming freshman and 2015 Dutchmen infielder Jack Weiller. Virginia is ranked No. 9 to begin the season.
2015 Dutchmen slugger Michael Bollmer is entering his junior season for No. 2 Louisville, one of six teams from the ACC ranked in the top 25. Also entering the season in the top 20 is No. 20 Rice, led by 2015 players Grayson Lewis and Dominic DiCaprio. Other D1 top 40 teams include No. 28 Maryland (Patrick Hisle, 2015), and No. 33 Coastal Carolina (Anthony Marks, 2013 and Zach Remillard, 2012/2013/2015)
In Division II, 2014 Albany speedster Justin Brock leads No. 4 Franklin Pierce in their pursuit of a 12th consecutive NCAA Tournament appearance and first trip to the D2 World Series since 2013. The Ravens won 48 games a year ago, but fell to 2014 pitcher Tyler Fries and Wilmington in the Regional Final.
Three other teams in the preseason top 40 boast former Dutchmen on their roster. No. 18 Millersville is paced offensively by 2013 Dutchmen star Tyler Orris and have 2014 pitcher Steve Ghiardi on the mound. Orris was named as a First Team All-Atlantic Region in the preseason at shortstop for Millersville, who was picked second in the region by the NCBWA.
2015 two-way player Jesse Cooper will attempt to send No. 19 Seton Hill to a stellar season, while No. 34 Azusa Pacific is led by 2015 lefty Jon Reid and 2014 PGCBL All-Star and 2015 leader Sean Aspinall.
Three former Dutchmen litter the roster of Trinity University, the only ranked Division III school with former Albany players. Pitchers Dylan McGee (2014) and Taylor Hoesen (2015) will join Nick Jewett (2014) in helping the Tigers in their goal of returning to the D3 World Series.
These nationally ranked teams only make up a portion of the highly-regarded teams entering the 2016 teams, and former Dutchmen are expected to make great impacts across divisions and levels of college baseball.
Throughout the season, DutchmenBaseball.com will provide updates on Dutchmen alumni during their collegiate seasons, which begins this weekend. Also beginning in February, the Dutchmen organization will begin announcing player signings for the 2016 season. As these players are signed, their progress will also be updated in the Spotlight section of the Albany Dutchmen website.