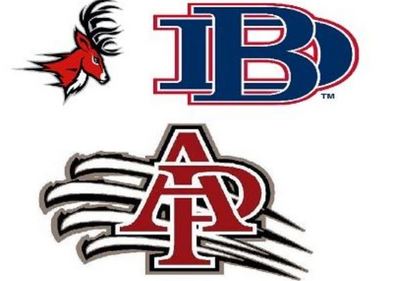 The Albany Dutchmen have signed three young infielders to the 2016 roster, adding an element of youth and versatility to the incoming group of Dutchmen. The three players- Jack Gethings (Fairfield), Mychael Goudreau (Azusa Pacific) and Jon Skidmore (Dallas Baptist) will be able to play positions around the diamond for Albany in the franchise's eighth season.
Gethings, a native of Wallingford, Connecticut, joins the Dutchmen as a true freshman starter for Fairfield. Gethings has started every game for the Stags, primarily at shortstop. The infielder has recorded 16 hits, 13 runs, and has driven in seven runs. He also hit his first career home run on March 18, a two-run shot in a contest against Delaware. Gethings came to Fairfield as the second-ranked shortstop prospect in Connecticut, and was among state's top 25 players in the Class of 2015. He was named a Northeast Region Honorable Mention selection and an Underclass Honorable Mention selection by Perfect Game. In high school, Gethings was an All-Conference selection and a team captain. He was also a two-sport star, and was named third team All-State in hockey. As one of Fairfield's top infielders, Gethings will bring experience and versatility to the Albany lineup.
The Dutchmen are also happy to continue a relationship with Azusa Pacific University, who have sent ace lefty Jon Reid and 2014 Player of the Year Sean Aspinall to Albany. Mychael Goudreau, an infielder from Elk Grove, California, has made eight starts for the Cougars thus far in 2016. Goudreau has hit .296 in 27 at bats, scoring five runs and driving in three. His on-base percentage sits at .441, second best on the team among players with at least 25 at bats. During his time at Jesuit High School in Carmichael, CA, Goudreau helped his team to a state playoff berth in California's Division 1. Goudreau provides the Dutchmen with a polished infielder that can play multiple positions, and continues a relationship with Azusa Pacific that has been fruitful for both sides in the past few years.
The trio of freshman infielders is rounded out by Jon Skidmore, a Dallas native from Dallas Baptist University. Skidmore transferred to DBU from Baylor, where he redshirted the 2015 season. The infielder was named as one of the top ten shortstops in Texas in the Class of 2015, and was listed among the nation's top 500 players. As a senior, he was named a Perfect Game Honorable Mention All-American, and was an Underclass High Honorable Mention selection as a junior. Skidmore was also an Honorable Mention All-State selection and played in the Texas All-Star Game following his senior season. In Skidmore, the Dutchmen get a more physical infielder that will provide a spark for the team as he begins to swing the bat again after a transfer season.
With the addition of Gethings, Goudreau, and Skidmore, the Dutchmen plan to put a stalwart infield on the fields of the PGCBL, and are pleased to welcome the trio of freshman infielders to the Capital City this summer.