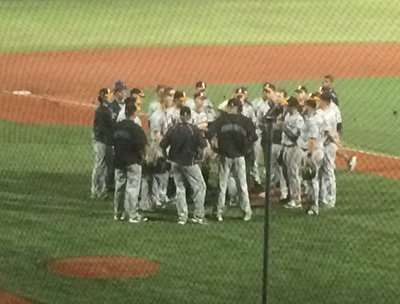 The Albany Dutchmen defeated the Amsterdam Mohawks 6-1 on opening night at Amsterdam. The Dutchmen gain their first win of the season thanks to base running and 3 Mohawk errors.
Despite only recording 5 singles and 1 double, the Dutchmen were still able to be aggressive on the base paths, stealing 4 bases, including a double steal. Key players for the Dutchmen included JJ Shimko (University of South Carolina Upstate), Justin Childers (Ohio Dominion) and Zach Durfee (Siena).
Shimko went 1-4 with a single but reached base 3 times and scored 2 runs. Childers when 1-3 with a single, 2 walks, and a run scored. Durfee went 2-5 with a single and a double that was inches away from being a solo home run in the top of the 6th inning.
As for the pitchers, the combined trio of Gabe Kleiman (University of Pennsylvania), Jack Grabek (Bucknell University) and Jeff Rivera (Unviersity of the Cumberlands) dominated the Mohawks. After giving up 1 run and 2 hits in the first inning, Kleiman settled down and overpowered the Amsterdam hitters over 4 innings of work. He would be credited with the win. Grabek pitched the 5th and 6th innings, as he struck out 2 Mohawks while allowing 0 hits. Rivera pitched the final 3 innings and recorded 3 strikeouts.
The Mohawk pitchers struggled with control all night, as Albany batters walked on 8 different occasions. Amsterdam also had 7 balls that got past their catchers Dan Maynard (University of Maryland) and Joe Genord (University of South Florida). The Mohawk fielders did not help the pitching staff either, as three Mohawk errors would eventually lead to runs for the Dutchmen. The loss would go to Austin Keen (University of Kentucky). He recorded 6 strikeouts and only allowed 1 hit, but walked 3 batters and allowed 2 runs in the first inning, 1 of them earned.
The Dutchmen are back in action tomorrow in Albany when they take on the Glens Falls Dragons at Bob Bellizzi Field at 7:05. This will be the home opener for the Dutchmen.