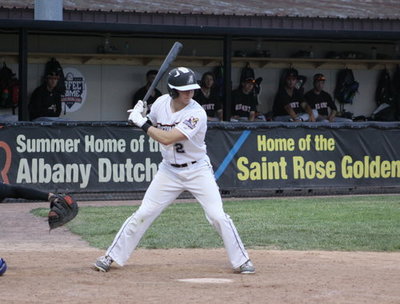 The Albany Dutchmen drops its first game of the season, losing to the Oneonta Outlaws 5-4.
The Dutchmen hitters could only record 6 hits against the Outlaw pitching staff. Designated hitter JJ Shimko (University of South Carolina Upstate) went 1-3 on the night with a single, 2 walks and 1 RBI. First baseman Malcolm Nachmanoff (Stony Brook Univeristy) went 1-3 with a double, the only Dutchmen extra-base hit. Right fielder Justin Childers (Ohio Dominican University) went 1-5 with a single and 2 RBI.
Childers came to the plate in the 9th inning with runners at first and second base and 2 outs and a chance to drive in the tying run. Unfortunately, he would strike out on a check swing to end the game.
As for the Dutchmen pitchers, Jared Gold (Coastal Carolina University) started the game for Albany. He went 5 innings, allowing 4 runs on 4 hits. He struck out 2 batters and walked on. Joe Pokrentowski (College of Saint Rose) came on to pitch in the 6th inning. He would give up the winning run on a sacrifice fly by Outlaw right fielder Quin Cotton (Grand Canyon University). Pokrentowski would take the loss, dropping his record to 0-1
The Outlaw hitters were led by Cotton, as he went 1-3 with a 2-run home run in the 1st inning and 2 sacrifice flies. He recorded 4 RBI's for the game. Center fielder Kyle Ruedisili (Washington and Lee University) drove in the other Outlaw run in the 2nd inning after he grounded out to shortstop.
Outlaw starting pitcher Tyler Brown went 5 innings and allowed 4 runs on 5 hits. He struck out 5 batters, walked 5, and hit 1 batter in a no decision. Relief Pitcher Antonio Baglivo (Alvernia University) picked up the win after coming in the 6th inning to relieve Brown. He retired all 9 Dutchmen batters that he faced in a row. Yale Hughes (West Liberty University), who was the designated hitter for the Outlaws, came on to close the game in the 9th inning. He would pick up his second straight save of the season for Oneonta.
The Albany Dutchmen hit the road for the second time this season, as they face the Mohawk Valley Diamond Dawgs at Veterans Memorial Park. Game time is set at 6:35 pm.