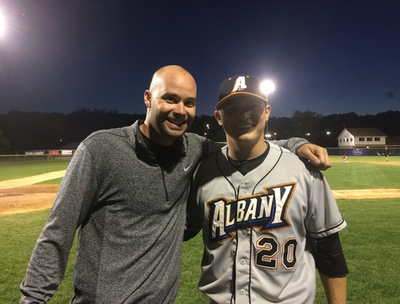 JUNE 10, 2016 – The Albany Dutchmen (5-2) defeated the Saugerties Stallions (4-3) by a score of 6-3. The Dutchmen have now recorded two straight wins against the Stallions.
The Dutchmen offense managed to score all 6 of their runs on 7 hits. Dutchmen center fielder JJ Shimko (University of South Carolina Upstate) led the charge with a 3-4 effort at the plate. He would record 2 RBIs and score 1 run as well. Because of his performance, he would be named the Recognize Player of the Game. Dutchmen 2nd baseman Justin Childers (Ohio Dominican University) went 2-3 with a walk and a run scored. Dutchmen catcher Brent Alford (Augusta University) and Dutchmen left fielder Cole Molloy (Butler University) had the other 2 hits for Albany.
On the mound, the Dutchmen pitchers were able to stay calm despite allowing 11 Stallion hits. Starting pitcher Kale Morton (Azusa Pacific University) went 4 innings and allowed 5 hits. He would strikeout a season high 4 batters. Joe Pokrentowski (College of Saint Rose) pitched 3 shutout innings while allowing 2 hits. He would strikeout 3 and walk 1. Pokrentowski would be credited with the win. J.D. Mundt (University of Louisville) struggled in his 1 inning of relief. He would allow the first 2 Stallion runs on 3 hits, including a triple by Stallion 3rd baseman Tyler Noe (University of Massachusetts Lowell).
Another Dutchmen pitcher made his debut for the team today. Jack Owens (Bryant University) made his Dutchmen debut in the 9th inning. He would allow 1 run on 1 hit and 1 walk. He would strikeout 3 batters to earn the save for the Dutchmen.
The Stallion offense struggled to get runners home through the night, as they left 4 men stranded at 3rd base. Stallion center fielder Alex Thrower (University of Buffalo) wen 3-3 with a walk and a run scored. Tyler Noe went 3-4, picking up 2 RBIs on his triple off Mundt in the 8th inning.
Stallion starting pitcher Andrew Rocco (Pace University) would take the loss, allowing 2 runs on 4 hits over 6 innings. He would walk 2 Dutchmen and strikeout 3. Relief pitcher Moshup Galbraith (Fordham University) struggled in his only inning of work, He would allow 4 runs on 3 hits and 2 walks.
The Stallions have a day off tomorrow, June 11th. They return action on Sunday, June 12th, when the Oneonta Outlaws visit Cantine Field. The Dutchmen return to Albany tomorrow, June 11th, to play against the Amsterdam Mohawks at Bob Bellizzi Field. The Dutchmen are seeking for revenge, as their last loss was to the Mohawks on Wednesday, June 8th, by a score of 7-5. The Dutchmen will be holding Savani Water Night, as all fans in attendance will receive a free bottle of Sanavi water, courtesy of Savani.